1. First Responder Appreciation Event
Guests Brent Stewart and Brian Wegener from Thrivent Financial® talk about the upcoming First Responder Appreciation Event. Thrivent and area schools in St. Charles County are working together for the event, during which volunteers can write letters of gratitude that will be sent in care packages to select polic and fire stations in St. Charles County. To volunteer for the event, contact Jill B. Gehner at 636-493-9220 or jill.gehner@thrivent.com no later than November 10th to RSVP.
---
2. Daily Lectionary
Rev. Stephen Reynolds from Shepherd of the Coast Lutheran Church in Ft. Lauderdale, Florida, studies Matthew 21:1-22.
---
3. Morning Prayer Sermonette
Today's sermonette is given by Rev. Stephen Reynolds from Shepherd of the Coast Lutheran Church in Ft. Lauderdale, Florida.
---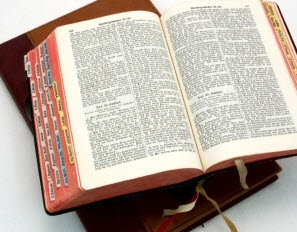 Matthew 21:1-22
21 Now when they drew near to Jerusalem and came to Bethphage, to the Mount of Olives, then Jesus sent two disciples, 2 saying to them, "Go into the village in front of you, and immediately you will find a donkey tied, and a colt with her. Untie them and bring them to me. 3 If anyone says anything to you, you shall say, 'The Lord needs them,' and he will send them at once." 4 This took place to fulfill what was spoken by the prophet, saying,
5 "Say to the daughter of Zion,
'Behold, your king is coming to you,
    humble, and mounted on a donkey,
    on a colt,[a] the foal of a beast of burden.'"
6 The disciples went and did as Jesus had directed them. 7 They brought the donkey and the colt and put on them their cloaks, and he sat on them. 8 Most of the crowd spread their cloaks on the road, and others cut branches from the trees and spread them on the road. 9 And the crowds that went before him and that followed him were shouting, "Hosanna to the Son of David! Blessed is he who comes in the name of the Lord! Hosanna in the highest!" 10 And when he entered Jerusalem, the whole city was stirred up, saying, "Who is this?" 11 And the crowds said, "This is the prophet Jesus, from Nazareth of Galilee."
Jesus Cleanses the Temple
12 And Jesus entered the temple[b] and drove out all who sold and bought in the temple, and he overturned the tables of the money-changers and the seats of those who sold pigeons. 13 He said to them, "It is written, 'My house shall be called a house of prayer,' but you make it a den of robbers."
14 And the blind and the lame came to him in the temple, and he healed them. 15 But when the chief priests and the scribes saw the wonderful things that he did, and the children crying out in the temple, "Hosanna to the Son of David!" they were indignant, 16 and they said to him, "Do you hear what these are saying?" And Jesus said to them, "Yes; have you never read,
"'Out of the mouth of infants and nursing babies
    you have prepared praise'?"
17 And leaving them, he went out of the city to Bethany and lodged there.
Jesus Curses the Fig Tree
18 In the morning, as he was returning to the city, he became hungry.19 And seeing a fig tree by the wayside, he went to it and found nothing on it but only leaves. And he said to it, "May no fruit ever come from you again!" And the fig tree withered at once.
20 When the disciples saw it, they marveled, saying, "How did the fig tree wither at once?" 21 And Jesus answered them, "Truly, I say to you, if you have faith and do not doubt, you will not only do what has been done to the fig tree, but even if you say to this mountain, 'Be taken up and thrown into the sea,' it will happen. 22 And whatever you ask in prayer, you will receive, if you have faith."
Footnotes:
Matthew 21:5 Or donkey, and on a colt
Matthew 21:12 Some manuscripts add of God
English Standard Version (ESV)The Holy Bible, English Standard Version. ESV® Permanent Text Edition® (2016). Copyright © 2001 by Crossway Bibles, a publishing ministry of Good News Publishers.