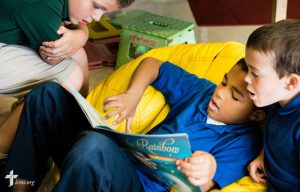 Guest Jennifer Heinze, Principal of Saint Paul Lutheran School in Mount Prospect, Illinois, talks about the honor of being named a National Blue Ribbon School. Learn more about Saint Paul Lutheran School at saint-paul.org/school.
Read the National Blue Ribbon press release at saint-paul.org/school/saint-paul-named-as-a-2016-blue-ribbon-school.
Listen to the full Faith & Family program from November 4, 2016, here.
---