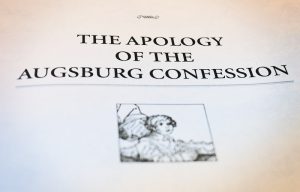 Host Rev. Jonathan Fisk and guests Rev. Sean Smith, Rev. Peter Ill, and Rev. Dr. John Sias discuss Article IV: Of Justification, beginning at paragraph 20. Rev. Jonathan Fisk is host of His Time and Cross Defense on Worldwide KFUO. Rev. Sean Smith is pastor of Immanuel-Campbell Hill and St. Paul-Wine Hill, Illinois. Rev. Peter Ill is Senior Pastor of Trinity Lutheran Church in Millstadt, Illinois. Rev. John Sias is Secretary of the Lutheran Church – Missouri Synod.
Concord Matters is hosted by Rev. Charlie Henrickson, Rev. Joshua Scheer, and Rev. Jonathan Fisk.
Do you have questions about this program? Email Andrew.Bates@kfuo.org or call at (314) 996-1519.