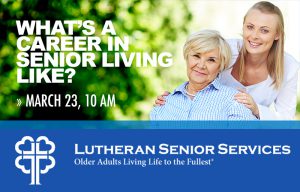 Annmarie Wallis and Lutheran Senior Services Director of Talent Acquisition Katrina McCarver and members of the LSS team joining to pull back the curtain on a career in senior living and care. Special guests Paula Mason, Rachel Carrender, Drew Redman, Sheletha Riley, and Aaron Krause talk about what it's like to work in senior living and debunk myths about working in senior care. Find open positions at LSSworking.org.
Lutheran Senior Services is a faith-based, mission-driven not-for-profit network that specializes in enhancing life for seniors, ages 62-plus. With 21 locations in Missouri and Illinois, LSS offers quality choices and exceptional support for retirement living. Through affordable housing locations, home and community based services, and senior living communities, they provide a person-centered approach to a comprehensive continuum of life choices. Building upon a tradition of excellence for more than 155 years, Lutheran Senior Services is fulfilling its Christian mission of Older Adults Living Life to the Fullest. Find LSS on Facebook!
Watch LSS's Facebook Live video from this morning's broadcast:
Listen to the full Faith & Family program from March 23, 2017, here.
---