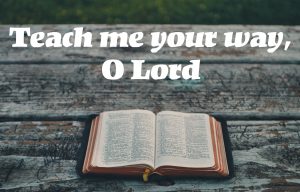 In today's Oratio Hour, Rev. Jonathan Fisk meditates on Psalm 27:7-13.
7 Hear, O Lord, when I cry aloud;
    be gracious to me and answer me!
8 You have said, "Seek[a] my face."
My heart says to you,
    "Your face, Lord, do I seek."[b]
9     Hide not your face from me.
Turn not your servant away in anger,
    O you who have been my help.
Cast me not off; forsake me not,
    O God of my salvation!
10 For my father and my mother have forsaken me,
    but the Lord will take me in.
11 Teach me your way, O Lord,
    and lead me on a level path
    because of my enemies.
12 Give me not up to the will of my adversaries;
    for false witnesses have risen against me,
    and they breathe out violence.
13 I believe that I shall look[c] upon the goodness of the Lord
    in the land of the living!
Footnotes:
Psalm 27:8 The command (seek) is addressed to more than one person
Psalm 27:8 

The meaning of the Hebrew verse is uncertain

Psalm 27:13 Other Hebrew manuscripts Oh! Had I not believed that I would look
---
All Scripture texts posted are English Standard Version (ESV)
The Holy Bible, English Standard Version. ESV® Permanent Text Edition® (2016). Copyright © 2001 by Crossway Bibles, a publishing ministry of Good News Publishers.