Guest Allison Kieselowsky, Reading Specialist, shares insights into favorite literature for families to enjoy this Christmas season. Her list includes:
Luke 1-2
"Christmas Night, Fair and Bright" by Julie Stiegemeyer
"Born on Christmas Morn" Arch Book
"The Jesse Tree" by Geraldine McCaughrean
"The Lion, the Witch and the Wardrobe" by C. S. Lewis
"The Glorious Impossible" by Madeline L'Engle
"The Nutcracker Ballet" and also watching the ballet
Listen to hear about these books and how to choose great books for your family!
---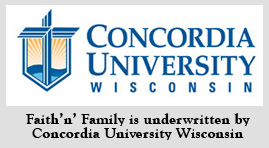 Send in your family questions to Family@kfuo.org or call host Andy Bates at (314) 996-1519.
---