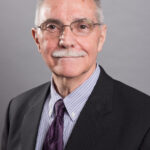 Rev. Joel Hempel is Director and Religious Endorser of LCMS Specialized Pastoral Ministry.  As director, the Rev. Joel Hempel facilitates ecclesiastical endorsements, recruits specialized pastoral ministers, provides opportunities for continuing education and peer support, and offers mentoring and pastoral care as needed.
Hempel is a certified clinical pastoral educator (CPE) with the Association of Clinical Pastoral Education (ACPE) and a certified pastoral counselor with the American Association of Pastoral Counselors (AAPC).
Before joining the staff of the LCMS International Center, Hempel served for 19 years as pastor and CPE educator at Prince of Peace Lutheran Church in inner-city Cincinnati, Ohio, and as chaplain and CPE administrator for Lutheran Senior Services, St. Louis, also for 19 years.
Hempel holds a Bachelor of Arts degree in sociology from Valparaiso University, Valparaiso, Ind.; a Master of Divinity degree from the former Concordia Theological Seminary, Springfield, Ill.; and a master's degree in pastoral counseling from the Athenaeum of Ohio, Cincinnati.
He and his wife, Marcia, reside in the St. Louis area and are members of Glendale Lutheran Church. They have two grown children and three grandchildren.
---
Chaplains play an important role in the lives of people who are hurting, distressed, or in challenging situations. They serve alongside first responders, in hospitals or other institutions, with the military, in prisons and jails, and in other situations. Hear from nine individuals about their journeys into chaplaincy, how they serve, and how they bring the love of Christ to those in need. This podcast is produced in partnership with the LCMS Office of National Mission. Find all episodes via the tag "Bring the Love of Christ."