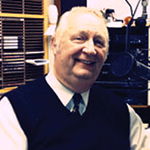 Pastor Baker discusses theological distinctions between Law & Gospel.
Today's topic of discussion is Sunday's Lectionary for Series C of the Three Year Lectionary.
Festival: Third Sunday in Lent
1st Reading: Ezekiel 33:7-20
Psalm: Psalm 85
Epistle: 1 Corinthians 10:1-13
Gospel: Luke 13:1-9
---
Learn more about Pastor Tom Baker's Law & Gospel at lawandgospel101.com.