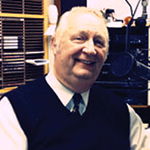 Pastor Baker discusses theological distinctions between Law & Gospel in a Bible Study session on Bible Study Wednesday.
Today's topic of discussion is a continuation of last week's study on 1 Corinthians 14 regarding speaking in tongues. Find last week's episode at kfuo.org/2019/06/05/lg-060519-bible-study-wednesday.
---
Learn more about Pastor Tom Baker's Law & Gospel at lawandgospel101.com.