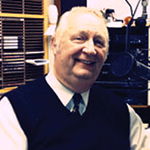 Pastor Baker discusses theological distinctions between Law & Gospel with guest Pastor Wes Reimnitz.
Today's rumination topic is an article by Greg Weeks about what believers can learn (or not) from non-believers titled "What non-believers can teach the religious." Read the article at on the St. Louis Post-Dispatch website.
---
Learn more about Pastor Tom Baker's Law & Gospel at lawandgospel101.com.