In this "Erin's Recipe Card" episode, the Lutheran Ladies take part in their first-ever Iron Ladle Challenge, as they each present a festive seasonal recipe showcasing an assigned ingredient — in this case: cranberries.
Which recipe will be your favorite? Will you favor Erin's super simple sugared cranberry hors d'oeuvres? Rachel's cranberry kale salad? Sarah's cranberry thumbprint cookies? Bri's cranberry ginger (AKA "cringer") mocktail? Or will you avoid choosing a favorite and simply make them all in one crantastic feast? Whatever path you pick, there are no losers in this challenge.
Find Rachel's article "Hot Dish Heaven" (in which her favorite kale salad is prominently featured) in the archives of The Lutheran Witness.
---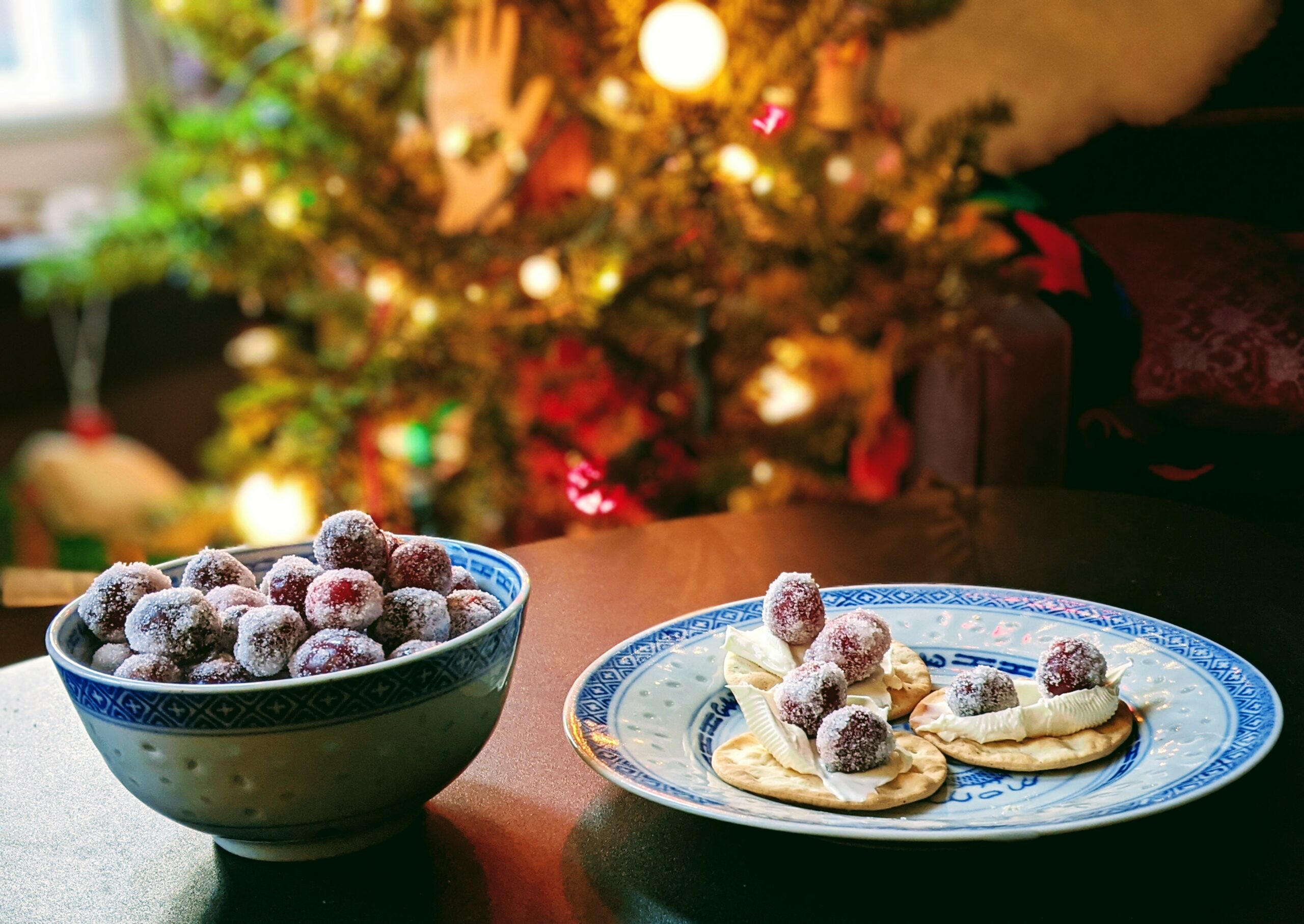 Sugared Cranberries
Coat raw cranberries in simple syrup, let dry so they're sticky, and then roll in sugar.
That's it. So easy.
---
Rachel's Cranberry Kale Salad
Remove stems and tear one bunch of kale (about 5 good sized leaves) into a medium-to-large salad bowl. Massage the kale with 1 T olive oil and set aside.
In a jelly jar, combine:
1-2 T olive oil
2 T balsamic vinegar
1 tsp. honey
½ tsp. stone ground mustard
Dash salt + fresh cracked black pepper to taste
Shake in lidded jar to combine, drizzle over kale, and toss with tongs till evenly coated.
Top with dried cranberries, crumbled feta cheese, roasted salted sunflower kernels, and toasted almonds.
---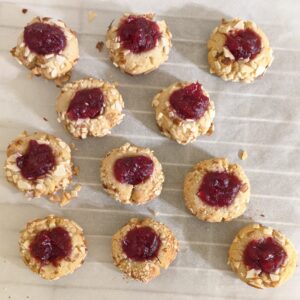 Cranberry Almond Flour Thumbprint Cookies
Adapted from The Simple Veganista simple-veganista.com/almond-flour-thumbprint-cookies
Ingredients
2 cups

 almond flour (Bob's Red Mill Fine AF)
pinch of salt

¼ cup

honey (original recipe calls for pure maple syrup)

¼ cup

 light flavored olive oil

2 teaspoons

 vanilla extract

⅓ cup

 slivered almonds, crushed or chopped (optional)

3 tablespoons

homemade cranberry jam, divided (original recipe calls for triple berry chia seed jam)

Cranberry jam: 12oz fresh cranberries, 3/4 cup water, 3/4 cup honey. Mix water and cranberries over medium high heat until cranberries begin to pop. Stir in honey and reduce heat to medium low. Stir frequently until all cranberries are popped. Remove from heat and let cool. Jam will thicken as it cools. Refrigerate what you don't eat right away.
Instructions
Preheat oven to 350 degrees F. Line a baking sheet with parchment paper or silicon mat.
Make the dough: In a medium bowl, whisk together the honey/maple syrup, olive oil and vanilla. Add the almond flour and salt, mix well until the mixture forms a soft dough consistency.
Almonds: Place the crushed almonds in a small bowl, set aside.
Shape the cookies: Roll dough into 1 inch balls (I used a 1 tablespoon measuring scoop, scooping up rounded tablespoons full of dough). Roll the dough balls in the crushed almonds, and place on a rimmed baking sheet, about 2 inches apart.
Add the jam: Using your thumb or the back of ½ teaspoon measuring spoon, make an indent in the center of each cookie. Pinch together any large cracks around the sides of each cookie. Fill the indent with ½ teaspoon of jam.
Bake: Place in the oven and bake for 10 – 15 minutes, oven may vary (see notes). Once done, the cookies will be soft and harden as they cool.
Makes 16 – 18 cookies
Store: Store loosely covered on the counter for up to 3 – 4 days. You can also keep them in an airtight container, just note they will soften a bit but will still be chewy. Or keep in a covered container in the refrigerator for 7 – 10 days. To freeze, let cool and store in freezer safe containers with parchment paper between each layer, will keep for to 2 months.
Notes
Oil: This would be great with a lemon flavored olive oil. Coconut oil would also be great, just be sure it's softened, or in liquid state, before using.
Nuts: Change up the nuts using your favorite or what you have on hand. Crushed pistachios, pecans, or walnuts would all work well.
Flavors: Add ½ teaspoon of cinnamon for a nice layer of flavor. Or try adding ½ teaspoon dried rosemary that's been finely chopped. As mentioned above, use lemon olive oil, plus a little lemon zest.
Oven Time: Baking times may be vary since ovens are different. I baked all my batches for the full 15 minutes and they were perfect. Some may find 10 minutes is best, as noted in the comments. Use your best judgement.
---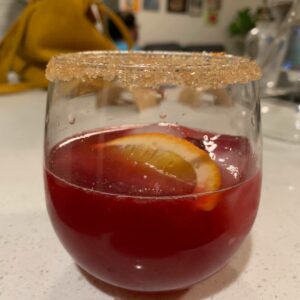 The Very Merry Cran-Ginger Mocktail (a.k.a. THE CRINGER)
Adapted from The Speckled Palate: thespeckledpalate.com/sparkling-ginger-cranberry-mocktail
2 tbsp. turbinado sugar ("in the raw")
The juice of 1 orange + 1 tsp. of its zest (any variety)
4 oz. ginger beer
2 oz. unsweetened cranberry juice
Garnishes: pomegranate seeds, orange slices, starfruit slices, sugared cranberries
On a small plate or tea saucer, combine sugar and orange zest; incorporate the orange zest throughout.
Onto another small plate or tea saucer, pour *some* of the orange juice — just enough to cover the surface of the plate.
Place your serving glass in the plate of juice, rim side down.
Transfer your glass to the plate of sugar, again rim side down. Turn the glass and move it around the plate, evenly coating the rim.
In a separate container, combine ginger beer and cranberry juice and lightly stir. If you prefer a less intense drink, add some of the reserved orange juice to the mixture before stirring.
Serve in the sugar-rimmed glass over ice and garnish.
Enjoy! Congratulations, you are fancy!!
---
Connect with the Lutheran ladies on social media in The Lutheran Ladies' Lounge Facebook discussion group (facebook.com/groups/LutheranLadiesLounge) and follow Sarah (@mrsbaseballpants), Rachel (@rachbomberger), Erin (@erin.alter), and Bri (@grrrzevske) on Instagram.
---
The Lutheran Ladies Lounge is the podcast produced by KFUO Radio and hosted by Sarah Gulseth, Erin Alter, Rachel Bomberger, and Bri Gerzevske. Created for Lutheran ladies to have a place to escape to with inviting conversations, laughter, and fellowship with Lutheran sisters, we invite all of you Lutheran ladies to join Sarah, Erin, Rachel, and Bri on the sofa in the Lutheran Ladies Lounge to sit, rest your feet, and stay a while. If you're a Lutheran lady, join us in our Facebook group: facebook.com/groups/LutheranLadiesLounge.