World Lutheran News Digest on 02.04.2013
http://archives.kfuo.org/mp3/WLND/WLN DIG M 02042013.mp3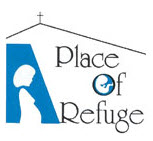 Today's WLN Digest Minute talks about A Place of Refuge Ministries.
A Place of Refuge Ministries is a network of volunteers who are committed to life and to caring for women facing crisis pregnancy in South Wisconsin.
Through their Advocacy Program, their volunteers…
REACH women with needs during pregnancy. Telephone hotline volunteers identify the callers' needs and
RECEIVE them into God's care through His people.  Volunteer Advocates then work one on one with mothers and…
REFER them to community resources available for their physical and emotional care…and congregations throughout South Wisconsin…
RESPOND by providing what is not available in the community, and by sharing God's love for us in His Son Jesus Christ.  And every day they…
REJOICE in the opportunity to share the gospel and share in the joy of a baby born.
Additional help is provided through…
Refuge House
Refuge House is truly "a place of refuge" where women and children who have no place to stay can reside as they prepare for the birth of their babies.  Live-in houseparents provide a loving and caring family atmosphere where moms can learn parenting and life-skills, further their education and acquire job skills.  Most importantly, the mothers have the opportunity for regular Bible study, prayer and worship so they can grow in their walk with the Lord.
Mothers and the community benefit from their third avenue of support…
Blessed Again Resale
Owned and operated by A Place of Refuge, Blessed Again Resale provides low-cost merchandise for our mothers and the community as well as opportunities for mothers to obtain work experience and many volunteer opportunities.  Proceeds help support A Place of Refuge Ministries.
A Place of Refuge is a Gospel focused service:
Through each of APOR's avenues of assistance, volunteers seek to reach out to women with the love of Christ in both words and actions.
Visit their webitesite to learn more! www.aporonline.org
Follow A Place of Refuge Ministries on Facebook HERE!
---
WLN Digest Minute is a Broadcast Ministry of the Lutheran Church Missouri Synod, produced through the facilities of Worldwide KFUO.
---
  Like what you hear on KFUO Radio? Like us on Facebook Today!