Money Management
Rev. Nathan Meader, Senior Pastor at St. John Lutheran Church in Plymouth, Wisconsin, discusses money management from a biblical aspect.

A son of Trinity Lutheran Church in Edwardsville, IL , Rev. Nathan Meador is a 1996 graduate of Concordia Seminary. He has served congregations in North Wisconsin and Southern Illinois prior to being called to St. John. He has a passion for Stewardship ministry having served at the District level in the area of Stewardship in both the Southern Illinois District and the South Wisconsin District. He is currently serving as the contributing author of the LCMS publication StewardCAST. He is a regular on KFUO's Bible Study and has appeared on many KFUO programs. He has been married to his wife Jill for 20 years and has three children, Jospeh, Bethany and Andrew.
---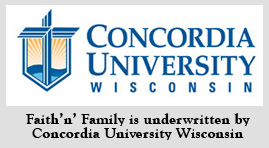 Send in your family questions to Family@kfuo.org or call host Liz Hoffman at (314)505-7839 and we'll address them on Friday's show!
---
Like us on Facebook Today!