Aging
With guest Rev. Walter M. Schoedel of Lutheran Senior Services in St. Louis, Missouri. Rev. Schoedel studied Education and Psychology at the University of Richmond in Richmond, Virginia.
To receive the newsletter he was discussing on today's program, please contact his office phone number is 314-446-2393.
---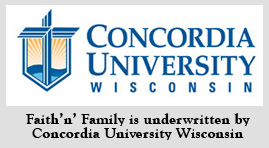 Send in your family questions to Family@kfuo.org or call host Rev. Rod Zwonitzer at (314)505-7839 and we'll address them on Friday's show!
Like us on Facebook Today!