Aging: Long-Term Care
With guest Kirk Mueller, the Senior Gift Planning Counselor of the LCMS Foundation, who also shares a personal letter written by his mother-in-law in her last will and testament that has impacted his life.
——–
June 2, 1989
To my Dear Children, Spouses, & Grandchildren,
Who knows when our final hour will come? Be ready for that day.
All your lifetime, my one desire and hope has been that you will cherish "the one thing needful" and believe that wisdom's highest noblest treasure is your belief in Jesus and His saving grace. It will be Heaven if we are all there.
Thank you for having been good, thoughtful children, and forgive my mistakes and failures as a mother. Keep Christ in you and He will help you over the rough places of life and give you much joy.
I pray that the lord will keep the circle of our family unbroken when we stand before Him on the Day of Judgement.
My life has been a full and happy one on this earth with trusting in the Lord. This is my wish for you also.
Your loving Mother, Mother-in-Law, and Grandmother,
Alma
---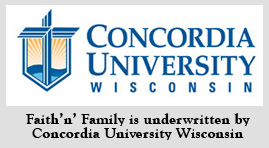 Send in your family questions to Family@kfuo.org or call host Rev. Rod Zwonitzer at (314)505-7839 and we'll address them on Friday's show!
Like us on Facebook Today!