Hour 1 Audio:
"Killing Jesus"

with guest Rev. Nathan Meador from St. John's Lutheran Church in Plymouth Wisconsin.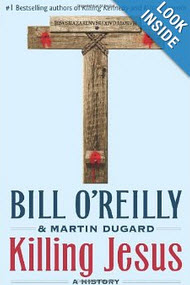 Killing Jesus — Millions of readers have thrilled by bestselling authors Bill O'Reilly and historian Martin Dugard's Killing Kennedy and Killing Lincoln, page-turning works of nonfiction that have changed the way we read history.
Now the anchor of The O'Reilly Factor details the events leading up to the murder of the most influential man in history: Jesus of Nazareth. Nearly two thousand years after this beloved and controversial young revolutionary was brutally killed by Roman soldiers, more than 2.2 billion human beings attempt to follow his teachings and believe he is God. Killing Jesus will take readers inside Jesus's life, recounting the seismic political and historical events that made his death inevitable – and changed the world forever.
"Death Dinners"

with guest Rev. Kevin Parviz of the Congregation Chai v'Shalom in St. Louis, Missouri.
---
Hour 2 Audio:

"Three Things The Church Can Do To Keep Culture From Going Over The Brink"
with guest Audrey Werner from the Matthew XVIII Group

"Redefining Religious Liberty"
with guest Robert G. Morrison, Senior Fellow at the Family Research Center.