Hour 1 Audio:
[twocol_one]
'Shot All to Hell: Jesse James, the Northfield Raid, and the Wild West's Greatest Escape' – with Award winning author and historian, Mark Lee Gardner.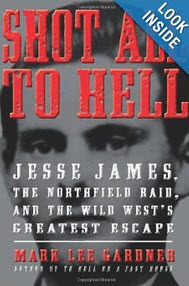 Shot All to Hell by Mark Lee Gardner recounts the thrilling life of Jesse James, Frank James, the Younger brothers, and the most famous bank robbery of all time.
Follow the Wild West's most celebrated gang of outlaws as they step inside Northfield's First National Bank and back out on the streets to square off with heroic citizens who risked their lives to defend justice in Minnesota.
With compelling details that chronicle the two-week chase that followed—the near misses, the fateful mistakes, and the bloody final shootout on the Watonwan River, Shot All to Hell is a galloping true tale of frontier justice from the author of To Hell on a Fast Horse: The Untold Story of Billy the Kid and Pat Garrett, Mark Lee Gardner.
[/twocol_one][twocol_one_last]
'Gunny's Rules' – Getting Squared Away Like  a Marine – with Author, R. Lee 'The Gunny' Ermy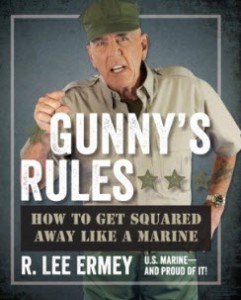 Put down your sissy drink with its umbrella, get off your backside, and square yourself away. Get fit, get a job, and get yourself some self-respect. America's favorite, most in-your-face sarge is going to show you how to get squared away like a Marine.
R. Lee "Gunny" Ermey, of The History Channel's Mail Call, takes time out from telling viewers all about military technology, to tell readers all about life. Men today are facing a crisis of emasculation. Gunny is here to tell you how to fight back and save your dignity: by taking control of your own damn life. First, he teaches you how to get fit, stay fit, and defend yourself. Then, he teaches you how to conduct yourself the way real men do: with assertiveness but also with wisdom and courtesy. Finally, Gunny motivates you to use your new fitness and new attitude to live life like a man of honor: to work hard, reach for high goals, and set an example with your life.
Gunny's Rules is the ultimate guide for anyone who wants to live life like one of the toughest of the tough—like a Marine.
[/twocol_one_last]
---
Hour 2 Audio:
[twocol_one]'What Jefferson Read, Ike Watched, and Obama Tweeted' – with Author Dr. Tevi Troy – Presidential Historian, Senior Fellow at the Hudson Institute, former White House staffer.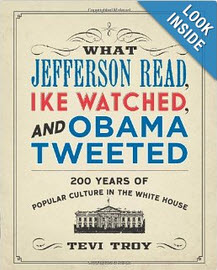 From Cicero to Snooki, the cultural influences on our American presidents are powerful and plentiful. Thomas Jefferson famously said "I cannot live without books," and his library backed up the claim, later becoming the backbone of the new Library of Congress. Jimmy Carter watched hundreds of movies in his White House, while Ronald Reagan starred in a few in his own time. Lincoln was a theater-goer, while Obama kicked back at home to a few episodes of HBO's "The Wire."
America is a country built by thinkers on a foundation of ideas. Alongside classic works of philosophy and ethics, however, our presidents have been influenced by the books, movies, TV shows, viral videos, and social media sensations of their day. In What Jefferson Read, Ike Watched, and Obama Tweeted: 200 Years of Popular Culturen in the White House presidential scholar and former White House aide Tevi Troy combines research with witty observation to tell the story of how our presidents have been shaped by popular culture. [/twocol_one]
[twocol_one_last]'Margaret Thatcher on Leadership: Lessons for American Conservatives Today' – with Author Nile Gardiner – Director of the Margaret Thatcher Center for Freedom at The Heritage Foundation, former Foreign Policy Researcher for Prime Minister Lady Margaret Thatcher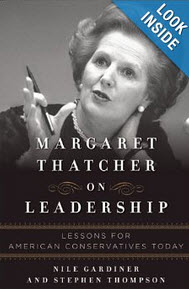 This inspirational and practical guide for conservatives combines stories from Lady Thatcher's life with principles and strategies conservatives can apply to their challenges today. Nile Gardiner and Stephen Thompson outline the critical lessons conservatives can learn from Lady Thatcher on articulating conservative principles to a broader audience, cutting through bureaucratic messes to achieve goals, and standing up to aggressive regimes.
[/twocol_one_last]