Preface of the Book of Concord, Paragraph 16 and following.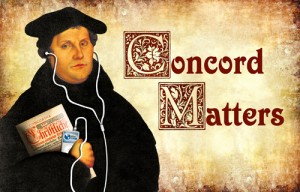 Join us as we look into the early efforts at Concord, Melancthon and the Lords Supper, minimizing theological differences to have unity, and the relationship between Scriptures and the Book of Concord.

With guests Rev. Chris Hull, pastor of Christ Lutheran in Normal, IL, Rev. Mark Preus, pastor of Faith Lutheran in Wylie, TX, and host Rev. Joshua Scheer, pastor of Our Savior in Cheyenne, WY.
—-
The Role of the Augsburg Confession
(16)Now, our conferences and those of our illustrious predecessors which were undertaken with a godly and sincere intention, first at Frankfort on the Main, and afterward at Naumburg, and were recorded in writing, not only did not accomplish that end and peaceful settlement which was desired, but from them even a defense for errors and false doctrines was sought by some, while it had never entered our mind, by this writing of ours, either to introduce, furnish a cover for, and establish any false doctrine, or in the least even to recede from the Confession presented in the year 1530 at Augsburg, but rather, as many of us as participated in the transactions at Naumburg wholly reserved it to ourselves, and promised besides that if, in the course of time, anything would be desired with respect to the Augsburg Confession, or as often as necessity would seem to demand it, we would further declare all things thoroughly and at length. And that is the reason why we have elaborated in this Book of Concord with great and godly agreement a declaration of our constant and perpetual, wish, and a repetition of our Christian faith and confession. Accordingly, in order that no persons may permit themselves to be disturbed by the charges of our adversaries spun out of their own mind, by which they boast that not even we are certain which is the true and genuine Augsburg Confession, but that both those who are now among the living and posterity also may be clearly and firmly taught and informed what that godly Confession is which both we and the churches and schools of our realms at all times professed and embraced, we emphatically testify that after the pure and immutable truth of God's Word we wish to embrace the first Augsburg Confession alone which was presented to the Emperor Charles V, in the year 1530, at the famous Diet of Augsburg (this alone we say), and no other; copies of which, deposited in the archives of our predecessors, of excellent memory, who presented it in the Diet to Charles V himself, we caused to be compared by men worthy of confidence (lest we should be found wanting in most accurate regard for diligence) with the copy which was presented to the Emperor himself, and is preserved in the archives of the Holy Roman Empire, and we are sure that our copies, both the Latin and the German, in all things correspond to it, with like meaning. For this reason also we wished to insert the confession then presented in our explanation, which will be submitted herewith or in the Book of Concord, in order that all may understand that we have resolved to tolerate in our realms, churches, and schools no other doctrine than that which, in the year 1530, was approved at Augsburg in a solemn confession, by the above-mentioned Electors, Princes, and Deputies of the Empire. This Confession also, by the help of God, we will retain to our last breath, when we shall go forth from this life to the heavenly fatherland, to appear with joyful and undaunted mind and with a pure conscience before the tribunal of our Lord Jesus Christ. We hope, therefore, that our adversaries will hereafter spare both us and the ministers of our churches, and not employ these customary and most grievous accusations, that we cannot decide among ourselves upon anything as certain concerning our faith, and that, on this account, we are forging new confessions almost every year, yea, even every month.
---
Concord Matters is hosted by Rev. Rod Zwonitzer, Rev. Craig Donofrio, Rev. Charlie Henrickson, and Rev. Joshua Scheer.
Do you have questions about this program? Email the host Rev. Craig Donofrio at Craig.Donofrio@kfuo.org or call in at (314) 996-1540.