Preview of January 2014 Edition of Lutheran Witness
Are we supposed to forgive others in our daily vocations? In our families? How do we practice forgiveness regularly? Rev. Joshua LaFeve, author of the #believeboldly column, and Dcs. Rosie Adle, author of the Family Matters column in this month's Lutheran Witness, address forgiveness in our daily vocations.
---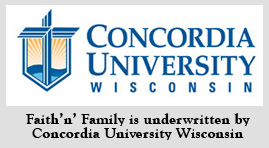 Send in your family questions to Family@kfuo.org or call host Andy Bates at (314) 996-1519 .
---