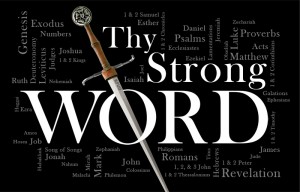 Thy Strong Word
Hosted by Rev. Will Weedon

With guest Rev. Larry Troxel of St. Paul Lutheran Church in Bowen, IL.
Ecclesiastes 10
10 Dead flies make the perfumer's ointment give off a stench;
    so a little folly outweighs wisdom and honor.
2 A wise man's heart inclines him to the right,
    but a fool's heart to the left.
3 Even when the fool walks on the road, he lacks sense,
    and he says to everyone that he is a fool.
4 If the anger of the ruler rises against you, do not leave your place,
    for calmness[a] will lay great offenses to rest.
5 There is an evil that I have seen under the sun, as it were an error proceeding from the ruler: 6 folly is set in many high places, and the rich sit in a low place. 7 I have seen slaves on horses, and princes walking on the ground like slaves.
8 He who digs a pit will fall into it,
    and a serpent will bite him who breaks through a wall.
9 He who quarries stones is hurt by them,
    and he who splits logs is endangered by them.
10 If the iron is blunt, and one does not sharpen the edge,
    he must use more strength,
    but wisdom helps one to succeed.[b]
11 If the serpent bites before it is charmed,
    there is no advantage to the charmer.
12 The words of a wise man's mouth win him favor,[c]
    but the lips of a fool consume him.
13 The beginning of the words of his mouth is foolishness,
    and the end of his talk is evil madness.
14 A fool multiplies words,
    though no man knows what is to be,
    and who can tell him what will be after him?
15 The toil of a fool wearies him,
    for he does not know the way to the city.
16 Woe to you, O land, when your king is a child,
    and your princes feast in the morning!
17 Happy are you, O land, when your king is the son of the nobility,
    and your princes feast at the proper time,
    for strength, and not for drunkenness!
18 Through sloth the roof sinks in,
    and through indolence the house leaks.
19 Bread is made for laughter,
    and wine gladdens life,
    and money answers everything.
20 Even in your thoughts, do not curse the king,
    nor in your bedroom curse the rich,
for a bird of the air will carry your voice,
    or some winged creature tell the matter.
Footnotes:
Ecclesiastes 10:4 Hebrew healing
Ecclesiastes 10:10 Or wisdom is an advantage for success
Ecclesiastes 10:12 Or are gracious
---
About the Host

The Rev. William C. Weedon accepted the call to serve as The Lutheran Church—Missouri Synod's (LCMS) Director of Worship and International Center Chaplain and was installed on May 7, 2012. In his director of Worship role, Weedon is responsible for proposing and creating programs that carry out the purposes and aims of the LCMS in matters of worship. As chaplain at the LCMS' International Center in St. Louis, he works with the president's office in planning and supervising all chapel services held there, as well as offering informal chaplaincy and counseling services to employees as requested.
A 1982 graduate of Concordia College—New York, in Bronxville, N.Y., Weedon earned Master of Divinity and Master of Sacred Theology degrees from Concordia Seminary, St. Louis, in 1986 and 1998, respectively. Prior to joining the staff at the LCMS International Center, Weedon served as pastor of St. Paul Lutheran Church, Hamel, Ill., since 1992. From 1986 until 1992, he was pastor of Redeemer Lutheran Church, Burlington, N.C.
On August 4, 2014, Rev. Will Weedon joined the Worldwide KFUO Radio team as the program host for Thy Strong Word, a bible study series that examines each book and chapter of the Bible in depth.
---