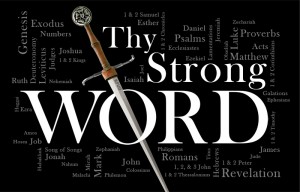 Thy Strong Word
Hosted by Rev. Will Weedon

With guest Rev. John Lukomski of St. Paul/Trinity Lutheran Churches in Southern IL.
Ecclesiastes 11
Cast Your Bread upon the Waters
11 Cast your bread upon the waters,
    for you will find it after many days.
2 Give a portion to seven, or even to eight,
    for you know not what disaster may happen on earth.
3 If the clouds are full of rain,
    they empty themselves on the earth,
and if a tree falls to the south or to the north,
    in the place where the tree falls, there it will lie.
4 He who observes the wind will not sow,
    and he who regards the clouds will not reap.
5 As you do not know the way the spirit comes to the bones in the womb[a] of a woman with child, so you do not know the work of God who makes everything.
6 In the morning sow your seed, and at evening withhold not your hand, for you do not know which will prosper, this or that, or whether both alike will be good.
7 Light is sweet, and it is pleasant for the eyes to see the sun.
8 So if a person lives many years, let him rejoice in them all; but let him remember that the days of darkness will be many. All that comes is vanity.[b]
9 Rejoice, O young man, in your youth, and let your heart cheer you in the days of your youth. Walk in the ways of your heart and the sight of your eyes. But know that for all these things God will bring you into judgment.
10 Remove vexation from your heart, and put away pain[c] from your body, for youth and the dawn of life are vanity.
Footnotes:
Ecclesiastes 11:5 Some Hebrew manuscripts, Targum; most Hebrew manuscripts As you do not know the way of the wind, or how the bones grow in the womb
Ecclesiastes 11:8 The Hebrew term hebel can refer to a "vapor" or "mere breath"; also verse 10 (see note on 1:2)
Ecclesiastes 11:10 Or evil
---
About the Host

The Rev. William C. Weedon accepted the call to serve as The Lutheran Church—Missouri Synod's (LCMS) Director of Worship and International Center Chaplain and was installed on May 7, 2012. In his director of Worship role, Weedon is responsible for proposing and creating programs that carry out the purposes and aims of the LCMS in matters of worship. As chaplain at the LCMS' International Center in St. Louis, he works with the president's office in planning and supervising all chapel services held there, as well as offering informal chaplaincy and counseling services to employees as requested.
A 1982 graduate of Concordia College—New York, in Bronxville, N.Y., Weedon earned Master of Divinity and Master of Sacred Theology degrees from Concordia Seminary, St. Louis, in 1986 and 1998, respectively. Prior to joining the staff at the LCMS International Center, Weedon served as pastor of St. Paul Lutheran Church, Hamel, Ill., since 1992. From 1986 until 1992, he was pastor of Redeemer Lutheran Church, Burlington, N.C.
On August 4, 2014, Rev. Will Weedon joined the Worldwide KFUO Radio team as the program host for Thy Strong Word, a bible study series that examines each book and chapter of the Bible in depth.
---