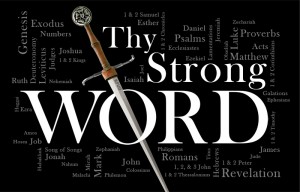 Thy Strong Word
Hosted by Rev. Will Weedon

With guest Rev. John Lukomski of St. Paul/Trinity Lutheran Church in Southern Illinois.
Revelation 15
The Seven Angels with Seven Plagues
15 Then I saw another sign in heaven, great and amazing, seven angels with seven plagues, which are the last, for with them the wrath of God is finished.
2 And I saw what appeared to be a sea of glass mingled with fire—and also those who had conquered the beast and its image and the number of its name, standing beside the sea of glass with harps of God in their hands. 3 And they sing the song of Moses, the servant[a] of God, and the song of the Lamb, saying,
"Great and amazing are your deeds,
    O Lord God the Almighty!
Just and true are your ways,
    O King of the nations![b]
4 Who will not fear, O Lord,
    and glorify your name?
For you alone are holy.
    All nations will come
    and worship you,
for your righteous acts have been revealed."
5 After this I looked, and the sanctuary of the tent[c] of witness in heaven was opened, 6 and out of the sanctuary came the seven angels with the seven plagues, clothed in pure, bright linen, with golden sashes around their chests. 7 And one of the four living creatures gave to the seven angels seven golden bowls full of the wrath of God who lives forever and ever, 8 and the sanctuary was filled with smoke from the glory of God and from his power, and no one could enter the sanctuary until the seven plagues of the seven angels were finished.
Footnotes:
Revelation 15:3 Greek bondservant
Revelation 15:3 Some manuscripts the ages
Revelation 15:5 Or tabernacle
---
About the Host

The Rev. William C. Weedon accepted the call to serve as The Lutheran Church—Missouri Synod's (LCMS) Director of Worship and International Center Chaplain and was installed on May 7, 2012. In his director of Worship role, Weedon is responsible for proposing and creating programs that carry out the purposes and aims of the LCMS in matters of worship. As chaplain at the LCMS' International Center in St. Louis, he works with the president's office in planning and supervising all chapel services held there, as well as offering informal chaplaincy and counseling services to employees as requested.
A 1982 graduate of Concordia College—New York, in Bronxville, N.Y., Weedon earned Master of Divinity and Master of Sacred Theology degrees from Concordia Seminary, St. Louis, in 1986 and 1998, respectively. Prior to joining the staff at the LCMS International Center, Weedon served as pastor of St. Paul Lutheran Church, Hamel, Ill., since 1992. From 1986 until 1992, he was pastor of Redeemer Lutheran Church, Burlington, N.C.
On August 4, 2014, Rev. Will Weedon joined the Worldwide KFUO Radio team as the program host for Thy Strong Word, a bible study series that examines each book and chapter of the Bible in depth.
---