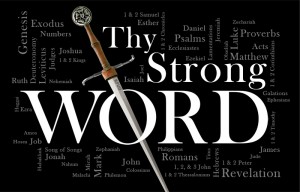 Thy Strong Word
Hosted by Rev. Will Weedon.

With guest Rev. David Beagley of Memorial Lutheran Church & Student Center in Ames, IA.
Genesis 16
Sarai and Hagar
16 Now Sarai, Abram's wife, had borne him no children. She had a female Egyptian servant whose name was Hagar. 2 And Sarai said to Abram, "Behold now, the Lord has prevented me from bearing children. Go in to my servant; it may be that I shall obtain children[a] by her." And Abram listened to the voice of Sarai. 3 So, after Abram had lived ten years in the land of Canaan, Sarai, Abram's wife, took Hagar the Egyptian, her servant, and gave her to Abram her husband as a wife. 4 And he went in to Hagar, and she conceived. And when she saw that she had conceived, she looked with contempt on her mistress.[b] 5 And Sarai said to Abram, "May the wrong done to me be on you! I gave my servant to your embrace, and when she saw that she had conceived, she looked on me with contempt. May the Lord judge between you and me!" 6 But Abram said to Sarai, "Behold, your servant is in your power; do to her as you please." Then Sarai dealt harshly with her, and she fled from her.
7 The angel of the Lord found her by a spring of water in the wilderness, the spring on the way to Shur. 8 And he said, "Hagar, servant of Sarai, where have you come from and where are you going?" She said, "I am fleeing from my mistress Sarai." 9 The angel of the Lord said to her, "Return to your mistress and submit to her." 10 The angel of the Lord also said to her, "I will surely multiply your offspring so that they cannot be numbered for multitude." 11 And the angel of the Lord said to her,
"Behold, you are pregnant
    and shall bear a son.
You shall call his name Ishmael,[c]
    because the Lord has listened to your affliction.
12 He shall be a wild donkey of a man,
    his hand against everyone
    and everyone's hand against him,
and he shall dwell over against all his kinsmen."
13 So she called the name of the Lord who spoke to her, "You are a God of seeing,"[d] for she said, "Truly here I have seen him who looks after me."[e] 14 Therefore the well was called Beer-lahai-roi;[f] it lies between Kadesh and Bered.
15 And Hagar bore Abram a son, and Abram called the name of his son, whom Hagar bore, Ishmael. 16 Abram was eighty-six years old when Hagar bore Ishmael to Abram.
Footnotes:
Genesis 16:2 Hebrew be built up, which sounds like the Hebrew for children
Genesis 16:4 Hebrew her mistress was dishonorable in her eyes; similarly in verse 5
Genesis 16:11 Ishmael means God hears
Genesis 16:13 Or You are a God who sees me
Genesis 16:13 Hebrew Have I really seen him here who sees me? or Would I have looked here for the one who sees me?
Genesis 16:14 Beer-lahai-roi means the well of the Living One who sees me
---
About the Host

The Rev. William C. Weedon accepted the call to serve as The Lutheran Church—Missouri Synod's (LCMS) Director of Worship and International Center Chaplain and was installed on May 7, 2012. In his director of Worship role, Weedon is responsible for proposing and creating programs that carry out the purposes and aims of the LCMS in matters of worship. As chaplain at the LCMS' International Center in St. Louis, he works with the president's office in planning and supervising all chapel services held there, as well as offering informal chaplaincy and counseling services to employees as requested.
A 1982 graduate of Concordia College—New York, in Bronxville, N.Y., Weedon earned Master of Divinity and Master of Sacred Theology degrees from Concordia Seminary, St. Louis, in 1986 and 1998, respectively. Prior to joining the staff at the LCMS International Center, Weedon served as pastor of St. Paul Lutheran Church, Hamel, Ill., since 1992. From 1986 until 1992, he was pastor of Redeemer Lutheran Church, Burlington, N.C.
On August 4, 2014, Rev. Will Weedon joined the Worldwide KFUO Radio team as the program host for Thy Strong Word, a bible study series that examines each book and chapter of the Bible in depth.
---