Creation Science at Christ Serve Ranch
Guests Rev. Dan Domke, Mt. Calvary Lutheran Church, Huron, SD; Stacy Lung, Director, Christ Serve Ranch; Marvin Swyter, Maintenance Director, Christ Serve Ranch, Lutheran Island Camp; Bill Schultz, Director of Planning & Resource Development, Lutheran Island Camp and Christ Serve Ranch discus the idea, genesis, and inaugural season of programs at Christ Serve Ranch and Creation- Science Environmental Learning Center at Lutheran Island Camp, Henning, MN.
---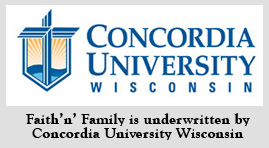 Send in your family questions to Family@kfuo.org or call host Andy Bates at (314) 996-1519 .
---