1. Grace Place Wellness
Rev. Dr. Darrell Zimmerman, VP of Programs, & Melissa Hower, Mission Advancement Officer, talk about the Grace Place Wellness Ministries – their programs/retreats for church workers and congregations.
---
2. Witness Wednesday
With Rev. Mark Wood, Director of Witness and Outreach in the LCMS Office of National Mission.
---
3. Daily Lectionary
Rev. Timothy Appel of Grace Lutheran Church in Smithville, TX looks at John 13:1-20 "Jesus Washes the Disciples' Feet".
---
4. Matins Sermonette
Today's sermonette is by Rev. Russ Gipson of Holy Cross Lutheran Church in Mobile, AL.
---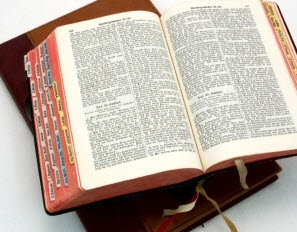 John 13:1-20
Jesus Washes the Disciples' Feet
13 Now before the Feast of the Passover, when Jesus knew that his hour had come to depart out of this world to the Father, having loved his own who were in the world, he loved them to the end. 2 During supper, when the devil had already put it into the heart of Judas Iscariot, Simon's son, to betray him, 3 Jesus, knowing that the Father had given all things into his hands, and that he had come from God and was going back to God, 4 rose from supper. He laid aside his outer garments, and taking a towel, tied it around his waist. 5 Then he poured water into a basin and began to wash the disciples' feet and to wipe them with the towel that was wrapped around him. 6 He came to Simon Peter, who said to him, "Lord, do you wash my feet?" 7 Jesus answered him, "What I am doing you do not understand now, but afterward you will understand." 8 Peter said to him, "You shall never wash my feet." Jesus answered him, "If I do not wash you, you have no share with me." 9 Simon Peter said to him, "Lord, not my feet only but also my hands and my head!" 10 Jesus said to him, "The one who has bathed does not need to wash, except for his feet,[a] but is completely clean. And you[b] are clean, but not every one of you." 11 For he knew who was to betray him; that was why he said, "Not all of you are clean."
12 When he had washed their feet and put on his outer garments and resumed his place, he said to them, "Do you understand what I have done to you? 13 You call me Teacher and Lord, and you are right, for so I am. 14 If I then, your Lord and Teacher, have washed your feet, you also ought to wash one another's feet. 15 For I have given you an example, that you also should do just as I have done to you. 16 Truly, truly, I say to you, a servant[c] is not greater than his master, nor is a messenger greater than the one who sent him. 17 If you know these things, blessed are you if you do them. 18 I am not speaking of all of you; I know whom I have chosen. But the Scripture will be fulfilled,[d] 'He who ate my bread has lifted his heel against me.' 19 I am telling you this now, before it takes place, that when it does take place you may believe that I am he. 20 Truly, truly, I say to you, whoever receives the one I send receives me, and whoever receives me receives the one who sent me."
Footnotes:
John 13:10 Some manuscripts omit except for his feet
John 13:10 The Greek words for you in this verse are plural
John 13:16 Greek bondservant
John 13:18 Greek But in order that the Scripture may be fulfilled