When a Child Dies before the Gift of Baptism
Today's program is an encore of June 16, 2014. Click HERE to listen.
First half hour with guest  Rev. David Petersen (Pastor at Redeemer, Ft. Wayne, IN), and second half hour with guests Deaconess Kristin Wassilak (Deac. at St. Paul Lutheran Church, Brookfield, IL).
---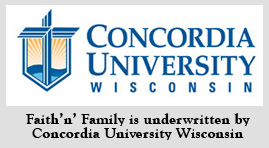 Send in your family questions to Family@kfuo.org or call host Andy Bates at (314) 996-1519 .
---