Holy Baptism: The Witness of a Lutheran School and Mideast meets Midwest, a Baptism for Former Muslims
Today's program is an encore of June 19, 2014. Click HERE to listen.
Gail Holzer, school administrator, and Rev. Dr. Jonathan Naumann, Redeemer Lutheran Church & School share the joy of the work of the Gospel in the lives of their students and their families as they received the gift of Holy Baptism.
Rev. Hicham Chehab, Salam Christian Fellowship explains the gift of Holy Baptism for former Muslims.
---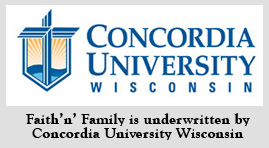 Send in your family questions to Family@kfuo.org or call host Andy Bates at (314) 996-1519 .
---