Bullying
Today's program is an encore of August 8, 2013. Click HERE to listen!
With guests Byron Devrouax and Jenna Nelson from Lutheran Family and Children Services (LFCS), Dan Harms the Dean of Students at Lutheran High School South (LHSA), and Gary Brucker, the Program Director for Courage for Youth at First Lutheran Church in Kelowna, British Columbia, Canada.
---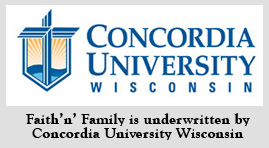 Send in your family questions to Family@kfuo.org or call host Andy Bates at (314) 996-1519 .
---