Prison Ministry Conference
The Rev Joel Hempel, ACPE Supervisor, AAPC Certified Pastoral Counselor, Interim Director, Specialized Pastoral Ministry (SPM), the Rev. E. James Rivett, LCMS Southern Illinois District Prison Coordinator, and the Rev. Dr. Jeffery Nehrt, LCMS Southern Illinois District Assistant Prison Coordinator discuss the need for faithful prison ministry and the upcoming Prison Ministry Coordinator Conference. The LCMS Prison Ministry Coordinators Conference is April 29-30 in Belleville, IL. Registration is available at sidlcms.org under forms/registrations. Or call 618-694-4825 for more information.
---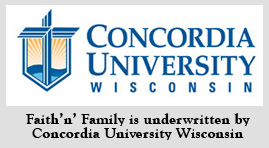 Send in your family questions to Family@kfuo.org or call host Andy Bates at (314) 996-1519 .
---