1. Lutheran Deaf Mission Society

Rev. Tim Eckert, Executive Director of the Lutheran Deaf Mission Society, speaks about the organization's work and mission. Rev. Eckert also talks about the Deaf Institute of Theology, the alternate route program at Concordia Seminary, St. Louis, that leads to ordination as a pastor or certification as a deaconesses within the LCMS.
---

2. Creation Club
Rev. Warren Woerth of Good Shepherd Lutheran Church in Arnold, Missouri, and Andy Bates discuss topics in Creation and dispel myths of the theory of evolution.
---
3. Daily Lectionary
Rev. Timothy Brand from St. Paul Lutheran Church in Caledonia, Michigan, studies Acts 18:1-11, 23-38.
---
4. Sermonette
Today's sermonette is given by Rev. Timothy Brand from St. Paul Lutheran Church in Caledonia, Michigan.
---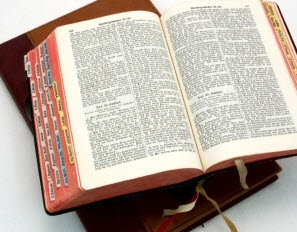 Acts 18:1-11, 23-38
Paul in Corinth
18 After this Paul[a] left Athens and went to Corinth. 2 And he found a Jew named Aquila, a native of Pontus, recently come from Italy with his wife Priscilla, because Claudius had commanded all the Jews to leave Rome. And he went to see them, 3 and because he was of the same trade he stayed with them and worked, for they were tent makers by trade. 4 And he reasoned in the synagogue every Sabbath, and tried to persuade Jews and Greeks.
5 When Silas and Timothy arrived from Macedonia, Paul was occupied with the word, testifying to the Jews that the Christ was Jesus. 6 And when they opposed and reviled him, he shook out his garments and said to them, "Your blood be on your own heads! I am innocent. From now on I will go to the Gentiles." 7 And he left there and went to the house of a man named Titius Justus, a worshiper of God. His house was next door to the synagogue. 8 Crispus, the ruler of the synagogue, believed in the Lord, together with his entire household. And many of the Corinthians hearing Paul believed and were baptized. 9 And the Lord said to Paul one night in a vision, "Do not be afraid, but go on speaking and do not be silent, 10 for I am with you, and no one will attack you to harm you, for I have many in this city who are my people." 11 And he stayed a year and six months, teaching the word of God among them….
…23 After spending some time there, he departed and went from one place to the next through the region of Galatia and Phrygia, strengthening all the disciples.
Apollos Speaks Boldly in Ephesus
24 Now a Jew named Apollos, a native of Alexandria, came to Ephesus. He was an eloquent man, competent in the Scriptures. 25 He had been instructed in the way of the Lord. And being fervent in spirit,[b] he spoke and taught accurately the things concerning Jesus, though he knew onlythe baptism of John. 26 He began to speak boldly in the synagogue, but when Priscilla and Aquila heard him, they took him aside and explained to him the way of God more accurately. 27 And when he wished to cross to Achaia, the brothers encouraged him and wrote to the disciples to welcome him. When he arrived, he greatly helped those who through grace had believed, 28 for he powerfully refuted the Jews in public, showing by the Scriptures that the Christ was Jesus.
Footnotes:
Acts 18:1 Greek he
Acts 18:25 Or in the Spirit
English Standard Version (ESV)The Holy Bible, English Standard Version Copyright © 2001 by Crossway Bibles, a publishing ministry of Good News Publishers.