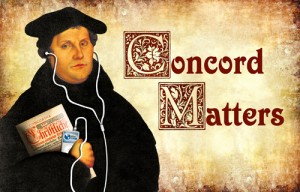 Guest host Pastor Warren Worth and guest Pastor Matt Wood discuss Holy Baptism from the Large Catechism, paragraphs 32-39. Warren Woerth is pastor of Good Shepherd Lutheran Church in Arnold, Missouri. Matt Wood is pastor of Concordia Lutheran Church in Maplewood, Missouri.
Concord Matters is hosted by Rev. Charlie Henrickson and Rev. Joshua Scheer.
Do you have questions about this program? Email Andrew.Bates@kfuo.org or call at (314) 996-1519.