1. Medical Equipment Donation Drive
Laura Cannon-Singer from St. Louis Health Equipment Lending Program talks about St. Louis HELP, which stands for Health Equipment Lending Program, talks about how the lending program works and how it helps people in need. HELP is doing a Medical Equipment Donation Drive this weekend, October 8, from 9:00 am – 2:00 pm at 14 locations across the St. Louis Metro Area at designated Walgreens. Find a HELP Donation Location near you and learn more about the Medical Equipment Donation Drive this weekend at stlhelp.org/medical-equipment-donation-drive. Learn more about STL HELP at stlhelp.org.
---

2. Creation Club
Rev. Warren Woerth of Good Shepherd Lutheran Church in Arnold, Missouri, and Andy Bates discuss topics in Creation and dispel myths of the theory of evolution.
---
3. Daily Lectionary
Rev. Warren Woerth from Good Shepherd Lutheran Church in Arnold, Missouri, studies Matthew 9:18-35.
---
4. Morning Prayer Sermonette
Today's sermonette is given by Rev. Warren Woerth from Good Shepherd Lutheran Church in Arnold, Missouri.
---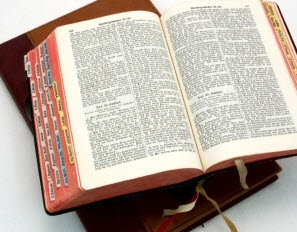 Matthew 9:18-35
A Girl Restored to Life and a Woman Healed
18 While he was saying these things to them, behold, a ruler came in and knelt before him, saying, "My daughter has just died, but come and lay your hand on her, and she will live." 19 And Jesus rose and followed him, with his disciples. 20 And behold, a woman who had suffered from a discharge of blood for twelve years came up behind him and touched the fringe of his garment, 21 for she said to herself, "If I only touch his garment, I will be made well." 22 Jesus turned, and seeing her he said,"Take heart, daughter; your faith has made you well." And instantly[a]the woman was made well. 23 And when Jesus came to the ruler's house and saw the flute players and the crowd making a commotion, 24 he said,"Go away, for the girl is not dead but sleeping." And they laughed at him. 25 But when the crowd had been put outside, he went in and took her by the hand, and the girl arose. 26 And the report of this went through all that district.
Jesus Heals Two Blind Men
27 And as Jesus passed on from there, two blind men followed him, crying aloud, "Have mercy on us, Son of David." 28 When he entered the house, the blind men came to him, and Jesus said to them, "Do you believe that I am able to do this?" They said to him, "Yes, Lord." 29 Then he touched their eyes, saying, "According to your faith be it done to you." 30 And their eyes were opened. And Jesus sternly warned them,"See that no one knows about it." 31 But they went away and spread his fame through all that district.
Jesus Heals a Man Unable to Speak
32 As they were going away, behold, a demon-oppressed man who was mute was brought to him. 33 And when the demon had been cast out, the mute man spoke. And the crowds marveled, saying, "Never was anything like this seen in Israel." 34 But the Pharisees said, "He casts out demons by the prince of demons."
The Harvest Is Plentiful, the Laborers Few
35 And Jesus went throughout all the cities and villages, teaching in their synagogues and proclaiming the gospel of the kingdom and healing every disease and every affliction.
Footnotes:
Matthew 9:22 Greek from that hour
English Standard Version (ESV)The Holy Bible, English Standard Version. ESV® Permanent Text Edition® (2016). Copyright © 2001 by Crossway Bibles, a publishing ministry of Good News Publishers.