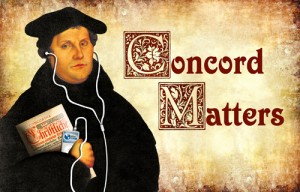 Host Rev. Charles Henrickson and guests Rev. Randy Asburry and Rev. Sean Smith discuss The Sacrament of the Altar from the Large Catechism, paragraphs 80-87. Charles Henrickson is pastor of St. Matthew-Bonne Terre, Missouri. Randy Asburry is pastor of Hope Lutheran Church in St. Louis, Missouri. Sean Smith is pastor of Immanuel-Campbell Hill and St. Paul-Wine Hill, Illinois.
Concord Matters is hosted by Rev. Charlie Henrickson and Rev. Joshua Scheer.
Do you have questions about this program? Email Andrew.Bates@kfuo.org or call at (314) 996-1519.