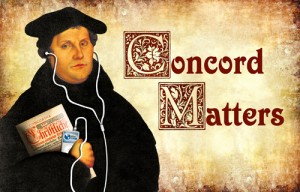 Host Rev. Joshua Scheer and guests Rev. Jeffrey Ries and Rev. Sean Daenzer discuss the Brief Exhortation to Confession in the Large Catechism, paragraphs 1-14, and Appendix B of the Concordia Readers Edition. Joshua Scheer is Senior Pastor of Our Savior Lutheran Church in Cheyenne, Wyoming. Jeffrey Ries is Pastor of Zion Lutheran Church in Tacoma, Washington. Sean Daenzer is Pastor of Peace Lutheran Church in Barney and Trinity Lutheran Church in Great Bend, North Dakota.
Concord Matters is hosted by Rev. Charlie Henrickson and Rev. Joshua Scheer.
Do you have questions about this program? Email Andrew.Bates@kfuo.org or call at (314) 996-1519.