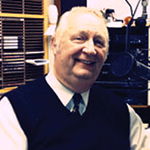 Pastor Baker discusses theological distinctions between Law & Gospel.
Today's topic of discussion is Sunday's Lectionary for Series B of the Three Year Lectionary.
Festival: Fifth Sunday after Pentecost (Proper 7)
1st Reading: Job 38:1-11
Psalm: Psalm 124
Epistle: 2 Corinthians 6:1-13
Gospel: Mark 4:35-41
---
Learn more about Pastor Tom Baker's Law & Gospel at lawandgospel101.com.