Mark and Julianna interview Rev. Dr. Trevor Sutton about his resource "What Does it Mean to Be Lutheran?" and how young people navigate the tensions of Lutheranism in the world. It is a great discussion for how young people can develop a resilient identity in Christ. Find Pastor Sutton's books from Concordia Publishing House: https://www.cph.org/m-173-a-trevor-sutton.aspx
Find the LCMS Youth Ministry resource website at youthesource.com.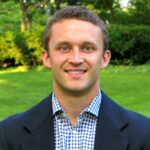 Bio: Trevor Sutton is associate pastor at St. Luke Lutheran Church in Lansing, Michigan. He has published multiple books, sermons, Bible studies, and devotional books with various Christian publishers. Sutton holds an MDiv from Concordia Seminary and an MA in writing and rhetoric from Michigan State University. Sutton is currently a PhD student at Concordia Seminary.
---
End Goals is the podcast of LCMS Youth Ministry in the Office of National Mission. LCMS Youth Ministry Staff discuss practices for healthy youth ministry and interview practitioners who provide insight for experienced and new youth leaders.