The season of Advent begins, and we'll hear several versions of that great Advent carol, "O Come, O Come, Emmanuel." Music by J.S. Bach and Johannes Brahms speak of the coming of the Savior. The hour is balanced with a litany of Advent carols and anthems that point us in the direction of Christmas.
---
Music List
THEME: CBS MDK 44651
JOHANN SEBASTIAN BACH: "My Spirit Be Joyful" from Cantata 146
Philharmonia Virtuosi of New York/Richard Kapp
St. Louis Cathedral Choir "Christmas at the Cathedral" (4:26)
arr. ALBERT ZABEL: "O Come, O Come, Emmanuel"
St. Louis Archdiocesan Handbell Choir/John Romeri, organist
SFGC 0301 "Christmas" (3'55)
arr. DAVID WILLCOCKS: O Come, O Come, Emmanuel"
San Francisco Girls Chorus/Susan McMane
NLCA-162 "A Holy Solemnity" (5'11)
RANDALL THOMPSON: "Have Ye Not Known?" and "Ye Shall Have a Song"
National Lutheran Choir/Rene Clausen
BSSL 2008 "Great and Marvelous" (3'22)
JOHN STAINER: God So Loved the World
Bach Society of St. Louis/A. Dennis Sparger
EMI CDC 7 49097 "Joy to the World" (2'45)
arr. FRANK DENSON: O Come, O Come Emmanuel
Empire Brass
Classic FM CFM CD11 "Classic Carols" (1996) (2'49)
Arr. Edgar Pettman: Gabriel's Message
Choir of Kings College Cambridge/Stephen Cleobury
NLCA 2013 "Emmanuel" (4'25)
Arr. F. MELIUS CHRISTIANSEN: Wake, Awake!
National Lutheran Choir/David Cherwien
TROY 353 "Christmas with the Master Chorale of Washington, DC" (6'38)
Arr. DONALD McCULLOUGH: Let All Mortal Flesh Keep Silence
Master Chorale of Washington/Donald McCullough
NLCA-32 "Infant, Holy" (5'15)
JOHANNES BRAHMS: O Savior, Throw the Heavens Wide (Op.74, No.2)
National Lutheran Choir/Larry L. Fleming
Philips 411 458-2 "Bach Magnificat, Jauchzet Gott" (8'40)
J.S. BACH: Magnificat in D, BWV 243 (excerpts)
Magnificat Anima Mea, Suscepit Israel, Sicut Locutus Est, Gloria Patri
Monteverdi Choir; English Baroque Soloists/John Eliot Gardiner
THEME
---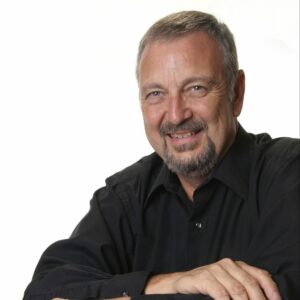 About the host: Ron Klemm's radio career has spanned six decades. He came to KFUO in 1978, serving as Program Director and then Operations Manager for the former CLASSIC 99 and CLASSIC99.com (KFUO-FM), before retiring in 2013.
Past President of the Classical Music Broadcasters Association, a national organization of classical music broadcasters, Ron was—and continues to be—a champion for the arts in Saint Louis. Among other organizations, Klemm was the voice of the Saint Louis Symphony live broadcasts and concert previews.
Ron's greatest love is church music and sacred classics. Klemm established the program JOY in mid-80s, an hour that became one of St. Louis's longest running musical programs, continuing for two additional years on CLASSIC99.com after the sale of KFUO-FM in 2010.
Contact Ron via email: JOY@KFUO.org
---
Described as an hour featuring the "JOY expressed in some great music," Ron Klemm weaves sacred classics from history's finest composers, together with sparkling arrangements of hymns and church anthems, into a colorful fabric of musical delight. Brief, heartfelt commentary focuses the listener's attention on the text: some in familiar settings, others not as well known. Ron's experience with and love for classical and church music makes for an inspiring hour of priceless musical gems.
Special JOY programs air from 1:00 – 2:00 p.m. Central from Thanksgiving 2019 through Epiphany 2020.
Thursday, November 28: "Thanksgiving"
Friday, November 29: Encore of "Thanksgiving"
Wednesday, December 4: "O Come, O Come, Emmanuel"
Wednesday, December 11: "Messiah"
Wednesday, December 18: "The Song of Mary"
Tuesday, December 24: "Joy to the World!"
Wednesday, December 25: Encore of "Joy to the World!"
Wednesday, January 1: New Year's Day
Monday, January 6: Epiphany