The season of Advent continues, and we'll feature a major portion of "Messiah," that famous oratorio by the great composer George Frederick Handel—the portion that prophesies the coming of Christ. We'll also hear Advent carols sung by the National Lutheran Choir, the Bach Society of Saint Louis, and others.
---
Music List
THEME: CBS MDK 44651
JOHANN SEBASTIAN BACH: "My Spirit Be Joyful" from Cantata 146
Philharmonia Virtuosi of New York/Richard Kapp
NLCA-62 "Jesu, Come" (5'25)
PAUL MANZ: E'en So, Lord Jesus, Quickly Come (2:17)
HERBERT HOWELLS: A Spotless Rose (3:05)
National Lutheran Choir/Larry L. Fleming
SPM CD 9804 6'38
HUGO DISTLER: motets from "The Christmas Story"
Es ist ein Rose; Meine Seele erhebt Gott; Lob, her sei Gott;
So singen wir all Amen
Madrigalia Chamber Choir of the Seattle Pro Musica/Karen P. Thomas
d'Note DND 1022 (4'11)
HANS LEO HASSLER: Verbum caro factum est (2'28)
DAVID CARNEY: The Angel Gabriel (1'53)
The Dale Warland Singers/Dale Warland
Bach Society of Saint Louis BSSL 2002 (5'05)
HAROLD DARKE: In the bleak midwinter (5'05)
The Bach Society of Saint Louis/A. Dennis Sparger; Mary Wilson,
Soprano; John Romeri, Organist
Archiv 423 630-2 (24'35)
G.F. HANDEL: Messiah, The Prophecy
Comfort ye my people (3'26), Ev'ry valley shall be exalted (3'32), And the
glory of the Lord (2'51), Thus saith the Lord of Hosts (1'36), But who may
abide (4'45), And he shall purify (2'25), Behold, a virgin shall conceive (0'30),
O thou that tellest good tidings (5'30)
The English Concert Choir, the English Concert/Trevor Pinnock; Michael
Chance, alto; Anne Sofie von Otter, contralto; Howard Crook, tenor;
John Tomlinson, bass
THEME
---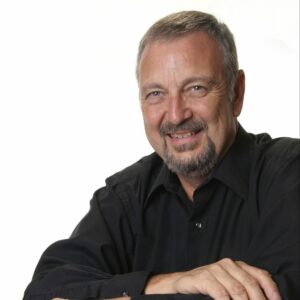 About the host: Ron Klemm's radio career has spanned six decades. He came to KFUO in 1978, serving as Program Director and then Operations Manager for the former CLASSIC 99 and CLASSIC99.com (KFUO-FM), before retiring in 2013.
Past President of the Classical Music Broadcasters Association, a national organization of classical music broadcasters, Ron was—and continues to be—a champion for the arts in Saint Louis. Among other organizations, Klemm was the voice of the Saint Louis Symphony live broadcasts and concert previews.
Ron's greatest love is church music and sacred classics. Klemm established the program JOY in mid-80s, an hour that became one of St. Louis's longest running musical programs, continuing for two additional years on CLASSIC99.com after the sale of KFUO-FM in 2010.
Contact Ron via email: JOY@KFUO.org
---
Described as an hour featuring the "JOY expressed in some great music," Ron Klemm weaves sacred classics from history's finest composers, together with sparkling arrangements of hymns and church anthems, into a colorful fabric of musical delight. Brief, heartfelt commentary focuses the listener's attention on the text: some in familiar settings, others not as well known. Ron's experience with and love for classical and church music makes for an inspiring hour of priceless musical gems.
Special JOY programs air from 1:00 – 2:00 p.m. Central from Thanksgiving 2019 through Epiphany 2020.
Thursday, November 28: "Thanksgiving"
Friday, November 29: Encore of "Thanksgiving"
Wednesday, December 4: "O Come, O Come, Emmanuel"
Wednesday, December 11: "Messiah"
Wednesday, December 18: "The Song of Mary"
Tuesday, December 24: "Joy to the World!"
Wednesday, December 25: Encore of "Joy to the World!"
Wednesday, January 1: New Year's Day
Monday, January 6: Epiphany