Psalm 100 declares: "O be joyful in the Lord, all ye lands; enter his gates with thanksgiving." JOY opens with a jubilant music setting of that Psalm. We'll sample hymns and anthems spanning four centuries, plus time-honored expressions of Thanksgiving from Johann Sebastian Bach and his influencers.
---
Music List
THEME: CBS MDK 44651
JOHANN SEBASTIAN BACH: "My Spirit Be Joyful" from Cantata 146
Philharmonia Virtuosi of New York/Richard Kapp
Hyperion CDA66569 (7'56)
VAUGHAN WILLIAMS: The Hundredth Psalm
Corydon Singers; City of London Sinfonia/Matthew Best
Virgin Classics 7243 5 45183 2 4 (2'39)
HEALEY WILLAN: Sing to the Lord of Harvest
Vancouver Chamber Choir/Jon Washburn; Bryn Nixon, organ
Telarc CD-80579 (5'40)
arr. MACK WILBERG: Come, Thou Fount of Every Blessing
Mormon Tabernacle Choir; Orchestra at Temple Square/Craig Jessop
Pro Organo CD 2223 "Sacred Heart" (3'09)
CHARLES CALLAHAN: Thanksgiving
Charles Callahan, organ; Sacred Heart Roman Catholic Church, Tampa, FL
Gloriae Dei Cantores GDCD 031 "Appalachian Sketches" (4'11)
arr. JOHN CARTER: Holy Manna (2'21)
arr. SHAW/PARKER: Bright Canaan (1'50)
Gloriae Dei Cantores/Elizabeth C. Patterson
Choral Arts Ensemble of Rochester CAER-71998 "Minnesota Voices" (2'52)
CAROLYN JENNINGS: To God All Praise and Glory (2'52)
Choral Arts Ensemble of Rochester/Rick Kvam; Lee Afdahl, organ
PGM 102 "The Buxtehude Project, vol 1" (9'04)
DIETRICH BUXTEHUDE: Erfreue dich, Erde!
The Sarum Consort, Chamber Choir of St. Peter's in the Great Valley/Martha N. Johnson, with soloists
BMG 05472-77305-2 "Make a Joyful Noise" (6'13)
JOHANN PACHELBEL: Singet dem Herrn, O sing to the Lord (2'33)
Nun danket alle Gott, Now thank we all our God (3'40)
Cantus Cölln/Konrad Junghänel
Sparrow Records (orig. EMI) 673261 "Hymns Triumphant" (2'40)
JOHANN CRUGER: Now Thank We All Our God
London Philharmonic Choir & Orchestra
Augsburg Fortress 3-5855 "Bach for All Seasons" (1'52)
J.S. BACH: "Now Thank We All Our God" from Cantata 79
Holy Trinity Bach Choir/Richard Erickson
THEME
---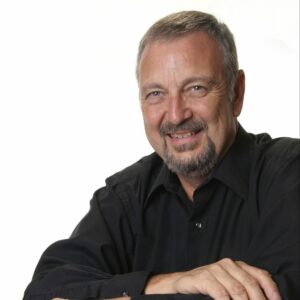 About the host: Ron Klemm's radio career has spanned six decades. He came to KFUO in 1978, serving as Program Director and then Operations Manager for the former CLASSIC 99 and CLASSIC99.com (KFUO-FM), before retiring in 2013.
Past President of the Classical Music Broadcasters Association, a national organization of classical music broadcasters, Ron was—and continues to be—a champion for the arts in Saint Louis. Among other organizations, Klemm was the voice of the Saint Louis Symphony live broadcasts and concert previews.
Ron's greatest love is church music and sacred classics. Klemm established the program JOY in mid-80s, an hour that became one of St. Louis's longest running musical programs, continuing for two additional years on CLASSIC99.com after the sale of KFUO-FM in 2010.
Contact Ron via email: JOY@KFUO.org
---
Described as an hour featuring the "JOY expressed in some great music," Ron Klemm weaves sacred classics from history's finest composers, together with sparkling arrangements of hymns and church anthems, into a colorful fabric of musical delight. Brief, heartfelt commentary focuses the listener's attention on the text: some in familiar settings, others not as well known. Ron's experience with and love for classical and church music makes for an inspiring hour of priceless musical gems.
Special JOY programs air from 1:00 – 2:00 p.m. Central from Thanksgiving 2019 through Epiphany 2020.
Thursday, November 28: "Thanksgiving"
Friday, November 29: Encore of "Thanksgiving"
Wednesday, December 4: "O Come, O Come, Emmanuel"
Wednesday, December 11: "Messiah"
Wednesday, December 18: "The Song of Mary"
Tuesday, December 24: "Joy to the World!"
Wednesday, December 25: Encore of "Joy to the World!"
Wednesday, January 1: New Year's Day
Monday, January 6: Epiphany