"My soul magnifies the Lord!" It's the song Mary sang when she learned she would give birth to the Savior. One of the most exuberant settings of that song from the gospel of Luke was written by the English composer John Rutter. We'll hear a major portion of his "Magnificat" this week.
---
Music List
THEME: CBS MDK 44651
JOHANN SEBASTIAN BACH: "My Spirit Be Joyful" from Cantata 146
Philharmonia Virtuosi of New York/Richard Kapp
Collegium COLCD 114 (6'50)
JOHN RUTTER: Magnificat anima mea, from Magnificat
The Cambridge Singers & City of London Sinfonia/John Rutter
Archiv Produktion 435-262-2 "Christmas Concertos" (4'40)
MARC-ANTOINE CHARPENTIER: Noëls sur les instruments
Vous qui désirez sans fin (2'13), A la venue de Noël (0'58), Où s'en vont
ces gais bergeres? (1'29)
The English Concert/Trevor Pinnock
Avie AV 0039 "Peace" (4'02)
TOMÁS LUIS DE VICTORIA: O magnum mysterium
The Handel and Haydn Society Chorus/Grant Llewellyn
Pro Organo CD 7169 "Our Dancing Day" (5'49)
MICHAEL PRAETORIUS: Psallite Unigenite (1'23)
CHARLES F. WATERS: I Sing of a Maiden (1'29); Libby Austin, soprano
SAMUEL SCHEIDT/arr. Willcocks: A Child Is Born in Bethlehem (2'57); Addie
Peyronnin, soprano; William Compton, tenor
The Memphis Boychoir & Chamber Choir/John Ayer; Memphis Brass
Ensemble
Luther College Recordings LCR 2003-3 "Christmas at Luther 2003" (3'40)
MICHAEL PRAETORIUS/arr. J. Sandström: Lo, How a Rose E'er Blooming
The Nordic Choir/Weston Noble
SLCC 007 "Rejoicing in His Birth" (8'18)
KENNETH LEIGHTON: Lully, Lulla, Thou Little Tiny Child (2'53)
MALCOLM WILLIAMSON: The Boar's Head Carol (2'12)
French Carol, arr. McPHEE: Whence Is that Goodly Fragrance? (2'53)
The Saint Louis Chamber Chorus/Philip Barnes
Collegium COLCD 114 (14'15)
JOHN RUTTER: Magnificat
Quia recit mihi magna (5'20), Et misericordia (4'42, Patricia Forbes, soprano,
Gloria Patri (5'02)
The Cambridge Singers & City of London Sinfonia/John Rutter
THEME
---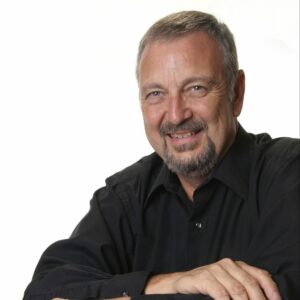 About the host: Ron Klemm's radio career has spanned six decades. He came to KFUO in 1978, serving as Program Director and then Operations Manager for the former CLASSIC 99 and CLASSIC99.com (KFUO-FM), before retiring in 2013.
Past President of the Classical Music Broadcasters Association, a national organization of classical music broadcasters, Ron was—and continues to be—a champion for the arts in Saint Louis. Among other organizations, Klemm was the voice of the Saint Louis Symphony live broadcasts and concert previews.
Ron's greatest love is church music and sacred classics. Klemm established the program JOY in mid-80s, an hour that became one of St. Louis's longest running musical programs, continuing for two additional years on CLASSIC99.com after the sale of KFUO-FM in 2010.
Contact Ron via email: JOY@KFUO.org
---
Described as an hour featuring the "JOY expressed in some great music," Ron Klemm weaves sacred classics from history's finest composers, together with sparkling arrangements of hymns and church anthems, into a colorful fabric of musical delight. Brief, heartfelt commentary focuses the listener's attention on the text: some in familiar settings, others not as well known. Ron's experience with and love for classical and church music makes for an inspiring hour of priceless musical gems.
Special JOY programs air from 1:00 – 2:00 p.m. Central from Thanksgiving 2019 through Epiphany 2020.
Thursday, November 28: "Thanksgiving"
Friday, November 29: Encore of "Thanksgiving"
Wednesday, December 4: "O Come, O Come, Emmanuel"
Wednesday, December 11: "Messiah"
Wednesday, December 18: "The Song of Mary"
Tuesday, December 24: "Joy to the World!"
Wednesday, December 25: Encore of "Joy to the World!"
Wednesday, January 1: New Year's Day
Monday, January 6: Epiphany