Just like the kid who can't wait to open the presents under the tree, the music of Christmas has been waiting to be unwrapped. We have an hour of the finest carols, the most meaningful, most enduring Christmas music you'll never hear at the mall! Merry Christmas!
---
Music List
THEME: CBS MDK 44651
JOHANN SEBASTIAN BACH: "My Spirit Be Joyful" from Cantata 146
Philharmonia Virtuosi of New York/Richard Kapp
EMI CDC 7 49097 2 "Joy to the World" (2'23)
Arr. FRANK DENSON: Joy to the World
Empire Brass
London 417 898-2 "O Come All Ye Faithful" (3'13)
Arr. DAVID WILLCOCKS: Unto us is born a Son (1'39); Sussex Carol (1'34)
The (London) Bach Choir, Philip Jones Brass Ensemble/Sir David Willcocks
d'Note DND 1015 "Carols for Christmas" (3'51)
STEPHEN PAULUS: O Little Town of Bethlehem
The Dale Warland Singers/Dale Warland
London 425 500-2 "The Holly and the Ivy" (2'37)
JOHN RUTTER: In dulci jubilo
The Clare College Choir and Orchestra/John Rutter
Luther College "Christmas at Luther 2003" (3'08)
ELEANOR DALEY: What Sweeter Music
The Nordic Choir/Weston Noble
Music Masters MM-34812-2 "Joy for Every Age" (2'29)
STEPHEN MAGER: Bring a Torch, Jeannette, Isabelle
Archangeli Chamber Chorus and Orchestra/Stephen Mager
RCM 19605 "Christmas" (4'41)
STEPHEN PAULUS: The Angels and the Shepherds (1'36)
Arr. NORMAN LUBOFF: Still, Still, Still (3'05)
Los Angeles Master Chorale/Paul Salamunovich
BSSL 2002 "Jesu Joy" (3'20)
Arr. DALE WARLAND: What Is This Fragrance?
The Bach Society of Saint Louis/A. Dennis Sparger
SMCD5055 "Welcome Yule!" (4'18)
Arr. DEREK HOLMAN: O Come, All Ye Faithful
Elmer Iseler Singers/Elmer Iseler]
CAE-5200 "Make We Joy" (3'20)
JACKSON BERKEY: Il est né
Choral Arts Ensemble/Rick Kvam
Chanticleer Records CR-8803 "Our Heart's Joy" (4'32)
MICHAEL PRAETORIUS: In dulci jubilo (2'40)
DALE GROTENHUIS: Tomorrow shall be my dancing day (1'52)
Chanticleer/Joseph Jennings
Regency Music V20033 "Christmas Brass"
(arr. unknown): What Child Is This?
Dallas Brass
BSSL 2017 "Joy to the World"
Arr. MACK WILBERG: Infant Holy, Infant Lowly
RANDOL ALAN BASS: Joy to the World
Bach Society of St. Louis Chorus and Orchestra
THEME
---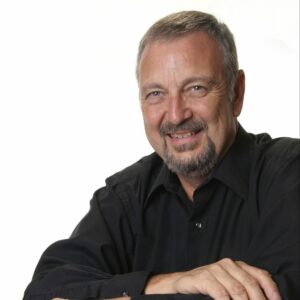 About the host: Ron Klemm's radio career has spanned six decades. He came to KFUO in 1978, serving as Program Director and then Operations Manager for the former CLASSIC 99 and CLASSIC99.com (KFUO-FM), before retiring in 2013.
Past President of the Classical Music Broadcasters Association, a national organization of classical music broadcasters, Ron was—and continues to be—a champion for the arts in Saint Louis. Among other organizations, Klemm was the voice of the Saint Louis Symphony live broadcasts and concert previews.
Ron's greatest love is church music and sacred classics. Klemm established the program JOY in mid-80s, an hour that became one of St. Louis's longest running musical programs, continuing for two additional years on CLASSIC99.com after the sale of KFUO-FM in 2010.
Contact Ron via email: JOY@KFUO.org
---
Described as an hour featuring the "JOY expressed in some great music," Ron Klemm weaves sacred classics from history's finest composers, together with sparkling arrangements of hymns and church anthems, into a colorful fabric of musical delight. Brief, heartfelt commentary focuses the listener's attention on the text: some in familiar settings, others not as well known. Ron's experience with and love for classical and church music makes for an inspiring hour of priceless musical gems.
Special JOY programs air from 1:00 – 2:00 p.m. Central from Thanksgiving 2019 through Epiphany 2020.
Thursday, November 28: "Thanksgiving"
Friday, November 29: Encore of "Thanksgiving"
Wednesday, December 4: "O Come, O Come, Emmanuel"
Wednesday, December 11: "Messiah"
Wednesday, December 18: "The Song of Mary"
Tuesday, December 24: "Joy to the World!"
Wednesday, December 25: Encore of "Joy to the World!"
Wednesday, January 1: New Year's Day
Monday, January 6: Epiphany