Much of the music we share was written centuries ago, hearkening the church's historic heritage of meaningful music. However, some great music for reflection has been written more recently as well. We'll have some fine examples this week.  
---
Music List
THEME: CBS MDK 44651
JOHANN SEBASTIAN BACH: "My Spirit Be Joyful" from Cantata 146
Philharmonia Virtuosi of New York/Richard Kapp
1.  Concordia Pub House CPH 99-1676 "Christ Be Our Seed"8'26CARL F. SCHALK: Who Is the One We Love the Most (5'02)
Paschal Lamb, Who Suffered for Us (3'24)
American Repertory Singers/Leo Nestor; Peter Latona, organ
2.  Nimbus NI 5171 "Psalms by Grieg and Mendelssohn"6'12
EDVARD GRIEG: God's Son hath set me free, Op. 74, No. 2
Oslo Cathedral Choir/Terje Kvam; Håkan Hagegård, baritone
3.  Warner Classics 50999 2 15047 "Eternal Light" 9'11
HOWARD GOODALL: Kyrie from "Eternal Light, A Requiem"
Natasha March, soprano; Choir of Christ Church Cathedral, Oxford; London Musici/Stephen Darlington
4.  "Pie Jesu" (private recording)3'27
KARL JENKINS: Ave verum
Scott Kennebeck, tenor; John Powel Walsh, organ
5.  NLCA-62 "Jesu, Come"4'40
DAVID C. DICKAU: Born to Die
WALTER PELZ: Peace I Leave with You
National Lutheran Choir/Larry L. Fleming
6.  Harmonia mundi HMU 907311 "Baltic Voices I"15'02
PETERIS VASKS: Dona nobis pacem
Estonian Philharmonic Chamber Choir, Tallinn Chamber Orchestra/
Paul Hillier
THEME
---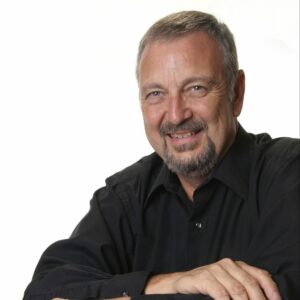 About the host: Ron Klemm's radio career has spanned six decades. He came to KFUO in 1978, serving as Program Director and then Operations Manager for the former CLASSIC 99 and CLASSIC99.com (KFUO-FM), before retiring in 2013.
Past President of the Classical Music Broadcasters Association, a national organization of classical music broadcasters, Ron was—and continues to be—a champion for the arts in Saint Louis. Among other organizations, Klemm was the voice of the Saint Louis Symphony live broadcasts and concert previews.
Ron's greatest love is church music and sacred classics. Klemm established the program JOY in mid-80s, an hour that became one of St. Louis's longest running musical programs, continuing for two additional years on CLASSIC99.com after the sale of KFUO-FM in 2010.
Contact Ron via email: JOY@KFUO.org
---
Described as an hour featuring the "JOY expressed in some great music," Ron Klemm weaves sacred classics from history's finest composers, together with sparkling arrangements of hymns and church anthems, into a colorful fabric of musical delight. Brief, heartfelt commentary focuses the listener's attention on the text: some in familiar settings, others not as well known. Ron's experience with and love for classical and church music makes for an inspiring hour of priceless musical gems.