Our focus today: the peace that our great Savior and divine Redeemer can bring into our lives. It starts at Calvary, and we'll have music about the cross of Christ. Bach, Haydn and Mozart are among those who help us see that we can receive true peace at the foot of the cross.
---
Music List
THEME: CBS MDK 44651
JOHANN SEBASTIAN BACH: "My Spirit Be Joyful" from Cantata 146
Philharmonia Virtuosi of New York/Richard Kapp
1.  Pro Organo 7120 "Kindle Our Hearts"3'55
S. H. NICHOLSON: Lift High the Cross
Chancel Choir of the Church of the Incarnation, Dallas/Kevin Clarke
2.  (private recording) "Christine Brewer and the Archdiocesan Choir of St. Louis"6'00
CHARLES GOUNOD: O Divine Redeemer!
Christine Brewer, soprano; Zachary Hemenway, organist
3.  EMI CDC-7 47252 2 "Simple Gifts"3'19
arr. ROWLAND H. PRITCHARD: Our Great Savior ("Hyfrodol")
Christopher Parkening, guitar
4. Hänssler 98.97711'39
FRANZ JOSEPH HAYDN: The Seven Last Words
Introduction (5'04), Father, forgive them (6'35)
Gächinger Kantorei and Bach-Collegium Stuttgart/Helmut Rilling; Pamela
Coburn, Ingeborg Danz, Uwe Heilmann, Andreas Schmidt
5. Telarc CD 80456 "Absolute Heaven"7'37
MOZART: Kyrie from Mass in c-minor
Edith Wiens, soprano; Atlanta Sym Orch & Chorus/Robert Shaw
6. EMI 0946 3 53244 2 "The Armed Man"8'12
KARL JENKINS: Kyrie from "The Armed Man: A Mass for Peace"
National Youth Choir of Great Britain; London Philharmonic/Karl Jenkins
7. CMW 1324 "Sing for Joy!"2:36
WALTER PELZ: Peace I Leave with You
Concordia Alumni Choir and Festival Orchestra/Ralph C. Schultz
8. Dorian DOR-90253 II3'04
J.S. BACH: Dona nobis pacem, from Mass in B minor
The Bach Choir of Bethlehem & Bach Festival Orchestra/Greg Funfgeld
THEME
---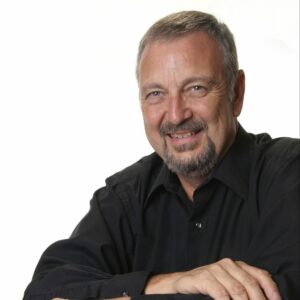 About the host: Ron Klemm's radio career has spanned six decades. He came to KFUO in 1978, serving as Program Director and then Operations Manager for the former CLASSIC 99 and CLASSIC99.com (KFUO-FM), before retiring in 2013.
Past President of the Classical Music Broadcasters Association, a national organization of classical music broadcasters, Ron was—and continues to be—a champion for the arts in Saint Louis. Among other organizations, Klemm was the voice of the Saint Louis Symphony live broadcasts and concert previews.
Ron's greatest love is church music and sacred classics. Klemm established the program JOY in mid-80s, an hour that became one of St. Louis's longest running musical programs, continuing for two additional years on CLASSIC99.com after the sale of KFUO-FM in 2010.
Contact Ron via email: JOY@KFUO.org
---
Described as an hour featuring the "JOY expressed in some great music," Ron Klemm weaves sacred classics from history's finest composers, together with sparkling arrangements of hymns and church anthems, into a colorful fabric of musical delight. Brief, heartfelt commentary focuses the listener's attention on the text: some in familiar settings, others not as well known. Ron's experience with and love for classical and church music makes for an inspiring hour of priceless musical gems.