What a strange picture: our Savior riding into Jerusalem on a donkey. "Hosanna," sang the children. "Blessed is He that comes in the name of the Lord." Really? Because in mere days they'll be shouting "Crucify Him!" Great music has been written for this historic dichotomy. We'll share some of it with you on a special Palm Sunday program.
---
Music List
THEME: CBS MDK 44651
JOHANN SEBASTIAN BACH: "My Spirit Be Joyful" from Cantata 146
Philharmonia Virtuosi of New York/Richard Kapp
1.  Decca B0006647-02 "Essential Hymns"
M. TESCHNER: All Glory, Laud and Honor
Choir of King's College Cambridge/Stephen Cleobury
2. Collegium COLCD 107 "Faire Is the Heaven"
ORLANDO GIBBONS: Hosanna to the Son of David
Cambridge Singers/John Rutter
3. RCA Victor 09026-63529-2
J. S. BACH: Osanna from Mass in B Minor
Robert Shaw Chorale and Orchestra/Robert Shaw
4. Reference Recordings RR-58CD "Pomp & Pipes!"
SIGFRIED KARG-ELERT: Praise the Lord with Drums and Cymbals
Dallas Wind Symphony/Frederick Fennell; Paul Riedo, organ
5. Delos DE 3169
MAURICE DURUFLE: Sanctus from Requiem, Op. 9
Voices of Ascension Chorus and Orchestra/Dennis Keene
6. harmonia mundi HMC 901588
FRANCIS POULENC:Sanctus from Mass in G Major
RIAS Kammerchor/Marcus Creed
7. EMI Classics CDC 7243 5 56605 2 7
JOHN RUTTER: Sanctus from Requiem
Choir of King's College, Cambridge; City of London Sinfonia/Stephen Cleobury
8. EMI Classics 0946 3 53244 2 6
KARL JENKINS: Benedictus from "The Armed Man"
Guy Johnston, cello; National Youth Choir of Great Britain;
London Philharmonic/Karl Jenkins
9. Deutsche harmonia mundi 72939
GEORGE FRIDERIC Handel: Messiah (selections)
Christine Schäfer (Soprano), Anna Larsson (Mezzo Soprano), Michael Schade (Tenor);
Arnold Schoenberg Choir; Concentus Musicus, Wien/Nikolaus Harnoncourt
THEME
---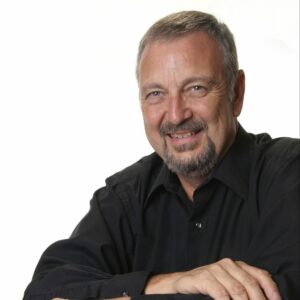 About the host: Ron Klemm's radio career has spanned six decades. He came to KFUO in 1978, serving as Program Director and then Operations Manager for the former CLASSIC 99 and CLASSIC99.com (KFUO-FM), before retiring in 2013.
Past President of the Classical Music Broadcasters Association, a national organization of classical music broadcasters, Ron was—and continues to be—a champion for the arts in Saint Louis. Among other organizations, Klemm was the voice of the Saint Louis Symphony live broadcasts and concert previews.
Ron's greatest love is church music and sacred classics. Klemm established the program JOY in mid-80s, an hour that became one of St. Louis's longest running musical programs, continuing for two additional years on CLASSIC99.com after the sale of KFUO-FM in 2010.
Contact Ron via email: JOY@KFUO.org
---
Described as an hour featuring the "JOY expressed in some great music," Ron Klemm weaves sacred classics from history's finest composers, together with sparkling arrangements of hymns and church anthems, into a colorful fabric of musical delight. Brief, heartfelt commentary focuses the listener's attention on the text: some in familiar settings, others not as well known. Ron's experience with and love for classical and church music makes for an inspiring hour of priceless musical gems.