Hallelujah!. . .I know that my Redeemer liveth!. . .Worthy is the Lamb that was slain!. . .The strife is over, the battle done. . .The victory of life is won. . .The song of triumph has begun!
The music of Easter is here at last. It's time to celebrate!
---
Music List
THEME: CBS MDK 44651
JOHANN SEBASTIAN BACH: "My Spirit Be Joyful" from Cantata 146
Philharmonia Virtuosi of New York/Richard Kapp
1. Veritas 7234 5 1330 2 "Handel Messiah" 3:55
GEORGE FRIDERIC HANDEL: Hallelujah from "Messiah"
Taverner Consort and Players/Andrew Parrott
2. EMI CDC 7 54134 2 "Light's Glittering Morn" 6:40
HORATIO PARKER: Light's Glittering Morn
Choirs of Washington National and Grace Cathedral, San Francisco/Douglas Major
3. EMI CDC-7 47395-2 "A Bach Festival" 3:35
JOHANN SEBASTIAN BACH: Sinfonia from Easter Oratorio
Empire Brass; Douglas Major, organ
4. CBS Odyssey MB2K 46515 "Bach Mass in B Minor" 4:13
JOHANN SEBASTIAN BACH: Et Resurrexit from Mass in B-minor
Gächinger Kantorei; Bach Collegium, Stuttgart/Helmut Rilling
5. Collegium COLCD 112 "Te Deum and Other Church Music" 2:45
JOHN RUTTER: Christ the Lord Is Risen Again
Cambridge Singers; City of London Sinfonia/John Rutter
6. Collegium COLCD 107 "Faire is the Heaven" 2:15
arr. CHARLES WOOD: This Joyful Eastertide
Cambridge Singers/John Rutter
7. Hyperion CDA20420 "Vaughan Williams Serenade to Music" 5:28
VAUGHAN WILLIAMS: Easter from Five Mystical Songs
The Sixteen/Harry Christophers
8. Philips 434 695-2 "Handel Messiah 250th Anniversary Performance" 25:42
GEORGE FRIDERIC HANDEL: "Messiah" (250th anniversary of first Dublin performance, 1742)
I Know That My Redeemer Liveth (5:21); Since By Man Came Death (2:01);
Behold, I Tell You a Mystery (0:22); The Trumpet Shall Sound (8:28);
Then Shall Be Brought to Pass (0:17); O Death, Where Is thy Sting? (1:08);
But Thanks Be to God (2:01); Worthy Is the Lamb (2:42); Amen (3:22)
Sylvia McNair, soprano; Michael Chance, alto; Jerry Hadley, tenor; Robert Lloyd, bass;
Academy and Chorus of St. Martin in the Fields/Sir Neville Marriner
THEME
---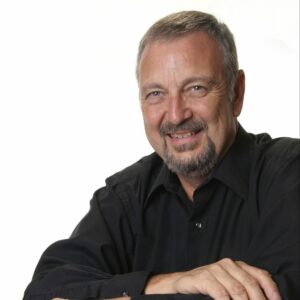 About the host: Ron Klemm's radio career has spanned six decades. He came to KFUO in 1978, serving as Program Director and then Operations Manager for the former CLASSIC 99 and CLASSIC99.com (KFUO-FM), before retiring in 2013.
Past President of the Classical Music Broadcasters Association, a national organization of classical music broadcasters, Ron was—and continues to be—a champion for the arts in Saint Louis. Among other organizations, Klemm was the voice of the Saint Louis Symphony live broadcasts and concert previews.
Ron's greatest love is church music and sacred classics. Klemm established the program JOY in mid-80s, an hour that became one of St. Louis's longest running musical programs, continuing for two additional years on CLASSIC99.com after the sale of KFUO-FM in 2010.
Contact Ron via email: JOY@KFUO.org
---
Described as an hour featuring the "JOY expressed in some great music," Ron Klemm weaves sacred classics from history's finest composers, together with sparkling arrangements of hymns and church anthems, into a colorful fabric of musical delight. Brief, heartfelt commentary focuses the listener's attention on the text: some in familiar settings, others not as well known. Ron's experience with and love for classical and church music makes for an inspiring hour of priceless musical gems.