Rev. Jeremy Loesch, pastor of Holy Trinity Lutheran Church in Grandview, Missouri, joins host Rev. AJ Espinosa to study Psalm 108.
"With God we shall do valiantly; it is he who will tread down our foes." Psalm 108 uniquely combines the latter half of two distinct psalms. Psalm 57 was from when David was hiding from King Saul in a cave among the Gentiles, and Psalm 60 was from a campaign of King David against Edom. Together they show that no matter the circumstances, God always protects His people in His messiah. A greater David, Jesus ☧ is both resurrected from the cave and seated in conquest against sin and death.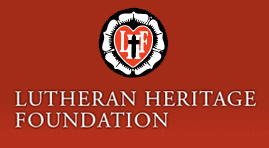 Thy Strong Word is a daily in-depth study of the books of the Bible with host Rev. AJ Espinosa and guest pastors from across the country. Thy Strong Word is graciously underwritten by the Lutheran Heritage Foundation and produced by the LCMS Office of National Mission.
---
Psalm 108
With God We Shall Do Valiantly
A Song. A Psalm of David.
108 My heart is steadfast, O God!
    I will sing and make melody with all my being![a]
2 Awake, O harp and lyre!
    I will awake the dawn!
3 I will give thanks to you, O Lord, among the peoples;
    I will sing praises to you among the nations.
4 For your steadfast love is great above the heavens;
    your faithfulness reaches to the clouds.
5 Be exalted, O God, above the heavens!
    Let your glory be over all the earth!
6 That your beloved ones may be delivered,
    give salvation by your right hand and answer me!
7 God has promised in his holiness:[b]
    "With exultation I will divide up Shechem
    and portion out the Valley of Succoth.
8 Gilead is mine; Manasseh is mine;
    Ephraim is my helmet,
    Judah my scepter.
9 Moab is my washbasin;
    upon Edom I cast my shoe;
    over Philistia I shout in triumph."
10 Who will bring me to the fortified city?
    Who will lead me to Edom?
11 Have you not rejected us, O God?
    You do not go out, O God, with our armies.
12 Oh grant us help against the foe,
    for vain is the salvation of man!
13 With God we shall do valiantly;
    it is he who will tread down our foes.
Footnotes:
Psalm 108:1 Hebrew with my glory
Psalm 108:7 Or sanctuary
English Standard Version (ESV) The Holy Bible, English Standard Version. ESV® Permanent Text Edition® (2016). Copyright © 2001 by Crossway Bibles, a publishing ministry of Good News Publishers. esv.org