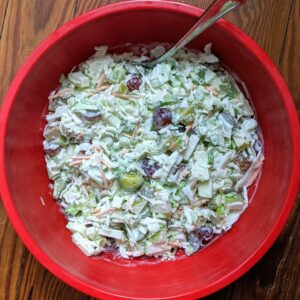 (SL)AW YEAH. It's Slawfest season in the Lutheran Ladies' Lounge.
In the latest installment of "Erin's Recipe Card," Erin introduces Sarah, Bri, and Rachel to a tangy twist on a summertime favorite: Cowboy Coleslaw.
Will Rachel love or hate this complex concoction featuring apples, grapes, dill pickles, onions, and stone ground mustard? Can Sarah find a way to modify the recipe that will allow her to enjoy coleslaw again for the first time in years? And what makes Bri love coleslaw so very much?
Tune in to learn all about the recipe that will have people talking (in a good way!) at your next church picnic — and don't miss Bri's epic power ballad to coleslaw at the halfway mark.
---
Combine for the dressing:
1/3 – 1 c mayonnaise
2 T vinegar
1 T sugar
2 t coarse brown mustard
1⁄2 t salt
1⁄2 t freshly ground black pepper 
Combine for the salad:
4-5 c coarsely shredded cabbage
2 med tart apples, chopped
3 lg dill pickles (1 c), chopped
1 c seedless grapes, halved
1⁄4 c chopped onion 
Combine dressing and salad, mix well. Cover and chill in the fridge 2-6 hours before serving.
---
Connect with the Lutheran ladies on social media in The Lutheran Ladies' Lounge Facebook discussion group (facebook.com/groups/LutheranLadiesLounge) and follow Sarah (@mrsbaseballpants), Rachel (@rachbomberger), Erin (@erin.alter), and Bri (@grrrzevske) on Instagram.
---
The Lutheran Ladies Lounge is the podcast produced by KFUO Radio and hosted by Sarah Gulseth, Erin Alter, Rachel Bomberger, and Bri Gerzevske. Created for Lutheran ladies to have a place to escape to with inviting conversations, laughter, and fellowship with Lutheran sisters, we invite all of you Lutheran ladies to join Sarah, Erin, Rachel, and Bri on the sofa in the Lutheran Ladies Lounge to sit, rest your feet, and stay a while. If you're a Lutheran lady, join us in our Facebook group: facebook.com/groups/LutheranLadiesLounge.