In her latest "One-Question Interview," Erin and the Ladies welcome Deaconess Tiffany Manor to the Lutheran Ladies' Lounge for an engaging, wide-ranging conversation about life, vocation, community, advocacy, and the church.
"Be present," the newly installed LCMS Director of Life Ministry tells listeners who want to make a difference for life.
"Be curious. And listen."
LCMS Life Ministry supports and encourages life "in the image of God," through life-affirming programming, advocacy and teaching at both the national and international level. Learn more here.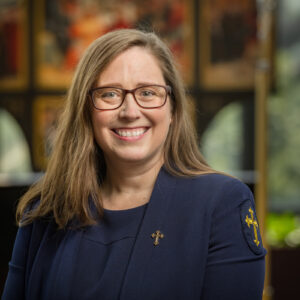 Deaconness Tiffany Manor is director of LCMS Life Ministry under the LCMS Office of National Mission (ONM). Before joining the ONM, Manor served the LCMS New England District in the areas of church worker wellness, human care and school ministry. She also contributed to the Synod's Ministerial Care Coalition (MC2); volunteered as a counselor at a pregnancy resource center; and served on the Lutherans For Life board of directors. Manor earned a Master of Arts in Deaconess Studies from Concordia Theological Seminary, Fort Wayne, and is currently pursuing a Doctor of Ministry in Congregation and Family Care at Bethel Seminary, Arden Hills, Minn.
---
Connect with the Lutheran ladies on social media in The Lutheran Ladies' Lounge Facebook discussion group (facebook.com/groups/LutheranLadiesLounge) and follow Sarah (@mrsbaseballpants), Rachel (@rachbomberger), Erin (@erin.alter), and Bri (@grrrzevske) on Instagram.
---
The Lutheran Ladies Lounge is the podcast produced by KFUO Radio and hosted by Sarah Gulseth, Erin Alter, Rachel Bomberger, and Bri Gerzevske. Created for Lutheran ladies to have a place to escape to with inviting conversations, laughter, and fellowship with Lutheran sisters, we invite all of you Lutheran ladies to join Sarah, Erin, Rachel, and Bri on the sofa in the Lutheran Ladies Lounge to sit, rest your feet, and stay a while. If you're a Lutheran lady, join us in our Facebook group: facebook.com/groups/LutheranLadiesLounge.