Rev. Peter Bender, pastor of Peace Lutheran Church in Sussex, Wisconsin, joins host Rev. AJ Espinosa to study Psalm 46.
"Be still, and know that I am God. […] The LORD of hosts is with us; the God of Jacob is our fortress." Martin Luther based his hymn "A Mighty Fortress is Our God" on Psalm 46. Like the Trinity, it presents three pictures of God side by side: a "trusty shield" to defend us, like a coastal fortress that stands tall over the wind and waves; a victor "by our side," like a river flowing through the peaceful city of God; and a "valiant One" on the battlefield, like a conqueror who destroys His people's enemies. We take refuge in Christ as His body the church, where we can let go of the sinful impulse to try and take control.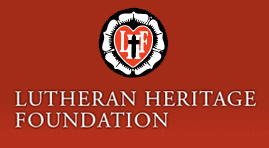 Thy Strong Word is a daily in-depth study of the books of the Bible with host Rev. AJ Espinosa and guest pastors from across the country. Thy Strong Word is graciously underwritten by the Lutheran Heritage Foundation and produced by the LCMS Office of National Mission.
---
Psalm 46
God Is Our Fortress
To the choirmaster. Of the Sons of Korah. According to Alamoth.[a] A Song.
46 God is our refuge and strength,
    a very present[b] help in trouble.
2 Therefore we will not fear though the earth gives way,
    though the mountains be moved into the heart of the sea,
3 though its waters roar and foam,
    though the mountains tremble at its swelling. Selah
4 There is a river whose streams make glad the city of God,
    the holy habitation of the Most High.
5 God is in the midst of her; she shall not be moved;
    God will help her when morning dawns.
6 The nations rage, the kingdoms totter;
    he utters his voice, the earth melts.
7 The Lord of hosts is with us;
    the God of Jacob is our fortress. Selah
8 Come, behold the works of the Lord,
    how he has brought desolations on the earth.
9 He makes wars cease to the end of the earth;
    he breaks the bow and shatters the spear;
    he burns the chariots with fire.
10 "Be still, and know that I am God.
    I will be exalted among the nations,
    I will be exalted in the earth!"
11 The Lord of hosts is with us;
    the God of Jacob is our fortress. Selah
Footnotes
Psalm 46:1 

Probably a musical or liturgical term

Psalm 46:1 Or well proved
English Standard Version (ESV) The Holy Bible, English Standard Version. ESV® Permanent Text Edition® (2016). Copyright © 2001 by Crossway Bibles, a publishing ministry of Good News Publishers. esv.org