Fruit + cake. What's not to love?
In this edition of "Erin's Recipe Card," Erin introduces Sarah, Rachel, and Bri to her Grammy's fruitcake as she recreates an epic, 100+-year-old recipe—one that calls for teamwork, patience, upper body strength, and pounds upon pounds of dried fruits and nuts.
Will Erin's favorite holiday treat finally end the stigma against fruitcake? Will fruitcake skeptic Bri overcome her pop-culture-inspired prejudice and enjoy fruitcake for the first time? Will fruitcake aficionado Rachel confirm that this is, as the Erin's family cookbook says, "The Very Best Fruitcake"? Listen and find out!
---
Very Best Fruitcake — A. Luedtke 
Fruit and Nuts 
1 pound pitted dates
2 pounds seedless raisins
1 pound currants
1 pound golden raisins
8 ounce jar maraschino cherries
8 ounce can pineapple tidbits
1/4 pound dried apricots, cut in half
1/4 pound dried, chopped figs (optional)
1 pound Brazil nuts
1 pound walnuts
1 pound hazelnuts
1 pound pecans
8 ounces shelled almonds
4 ounces cashews (optional) 
One day in advance of baking, prepare the nuts and fruit. Shell nuts and leave them whole. Drain cherries and pineapple overnight on paper towels. Candied fruit may be substituted (but we never do). Dust all fruit with 1/4 cup flour; lay nuts on top; cover all with a towel overnight. 
Batter 
4 cups flour, combined with:
      1 teaspoon nutmeg
      1 teaspoon cinnamon
      1/2 teaspoon allspice or mace
      1/2 teaspoon ground cloves
      1 teaspoon baking powder
      1 teaspoon salt 
1 pound butter (no substitutes, please)
1 pound brown sugar
1 tablespoon vanilla
12 egg yolks (save whites)
1 ounce melted baking chocolate
grated rind of 1 lemon and 1 orange
juice of 1 lemon and 1 orange
1/4 cup grape juice or wine 
Be sure to use a bowl large enough to hold all ingredients. A plastic tub may serve this purpose.  
Cream butter with brown sugar and vanilla. Add egg yolks, chocolate, and lemon and orange rind. Mix flour with dry ingredients and add it to butter mix alternatively with liquids. Whip egg whites until quite stiff. Combine batter with prepared fruit and nuts. Carefully fold in egg whites and mix gently until thoroughly combined. 
Spoon into pans which have been oiled and lined with parchment paper. Will fill 3 standard-sized bread pans and 3 smaller loaf pans. Bake at 325 degrees for 2 – 2 1/2 hours. Watch and shift tins if one side is getting done too fast. Place 2 shallow cake pans with water at bottom of oven to make a moist cake. 
Cool on racks.  
Wrap in a layer of cheesecloth. Moisten the cloth well with wine, grape juice, bourbon or rum. Wrap in plastic wrap or foil and store in cool place. Once a week for the first month or two, check the cakes to see if the cheesecloth is dry. If it is, moisten them again and then re-wrap in plastic wrap or foil. 
Bake a month or two before the holidays. They will keep for more than a year, well wrapped in the fridge. 
---
Keep scrolling to see photos!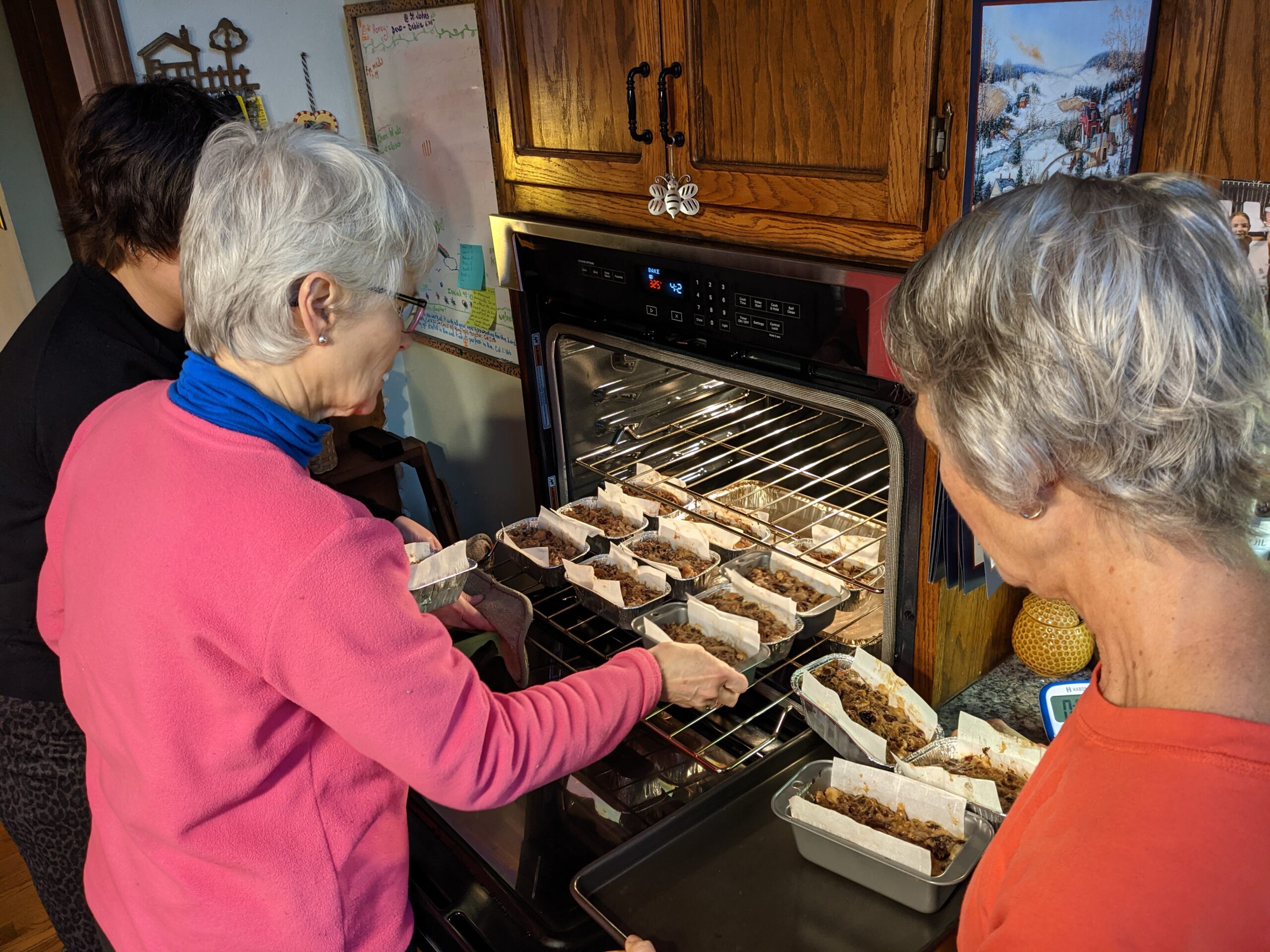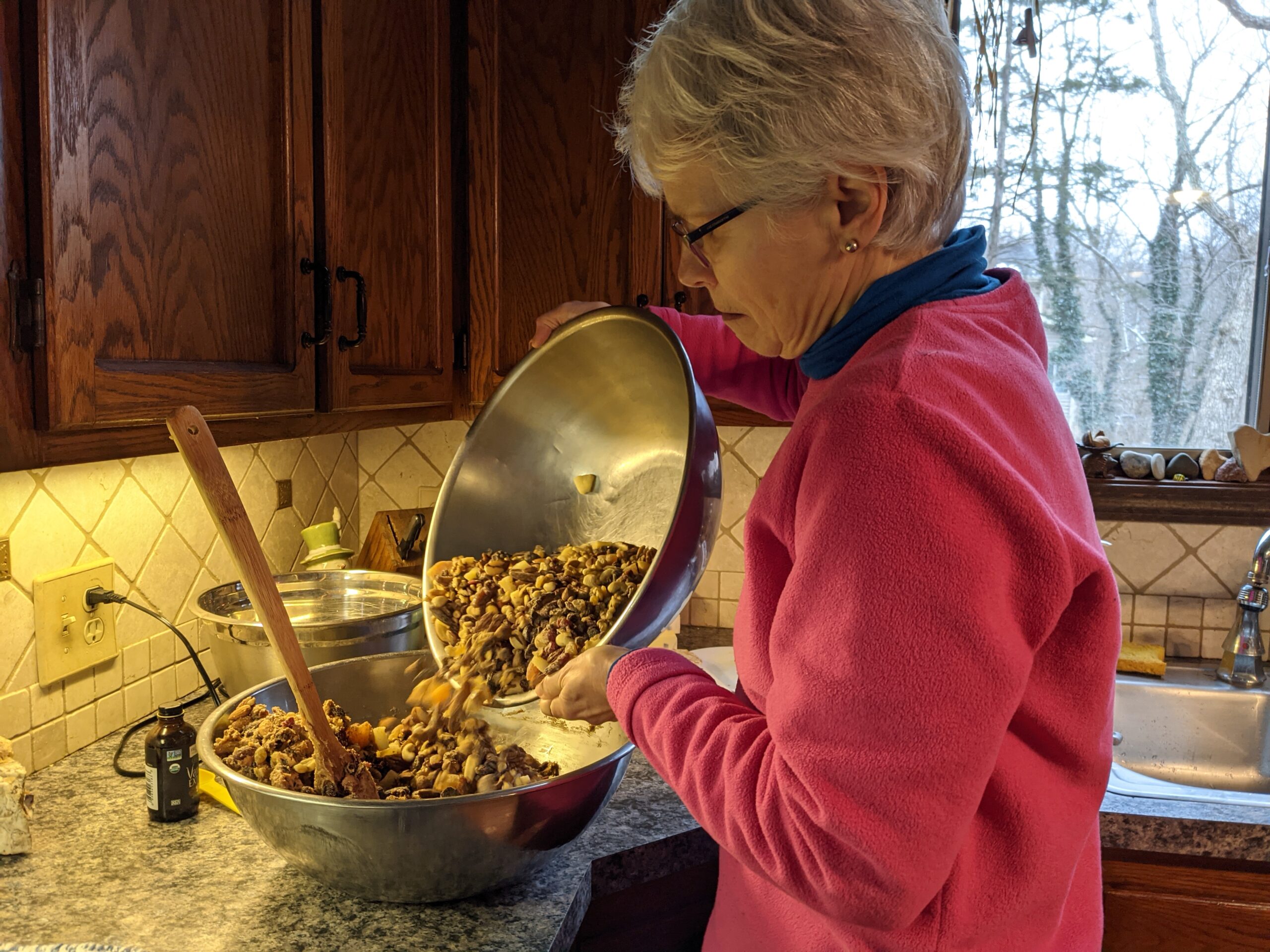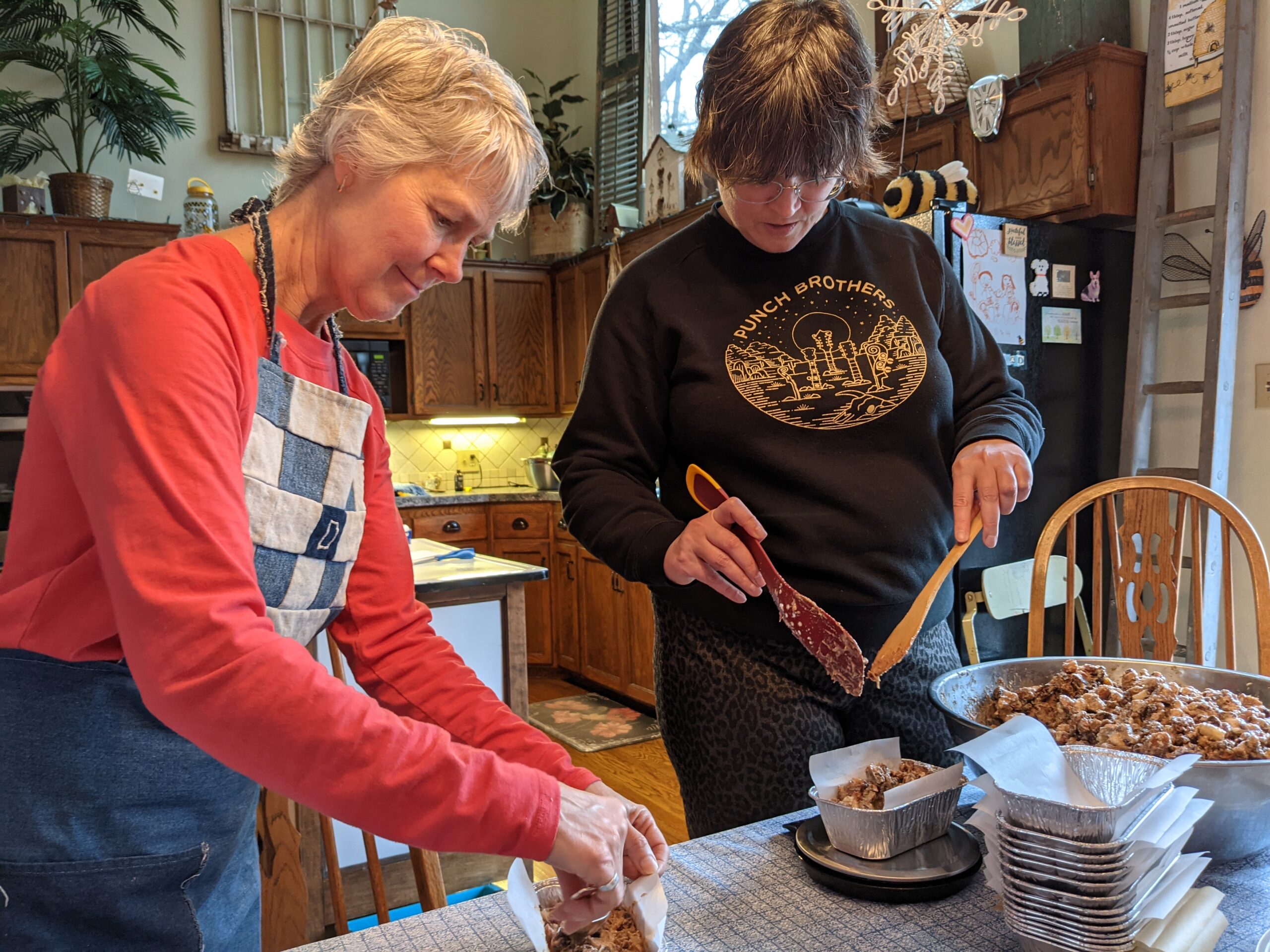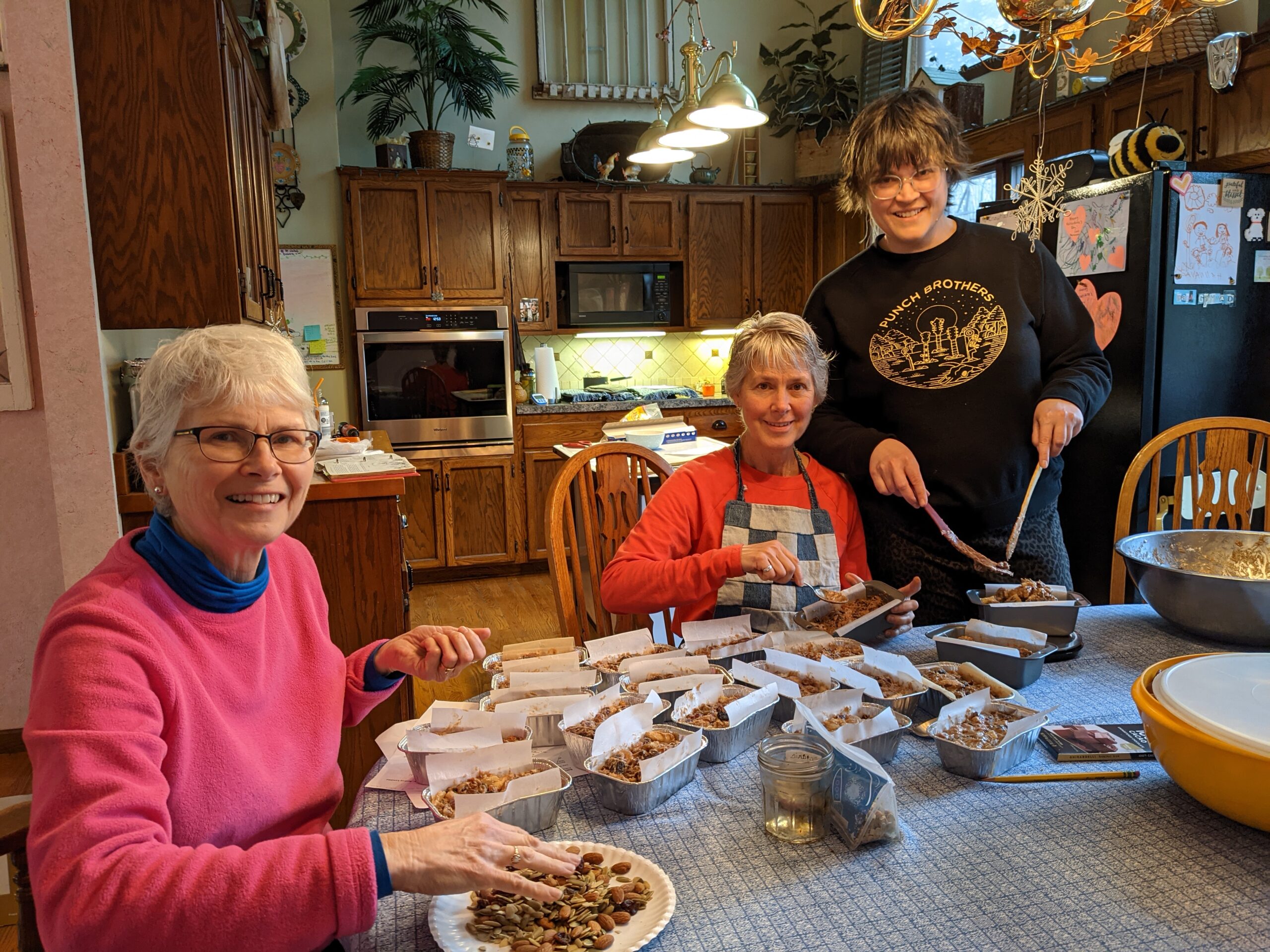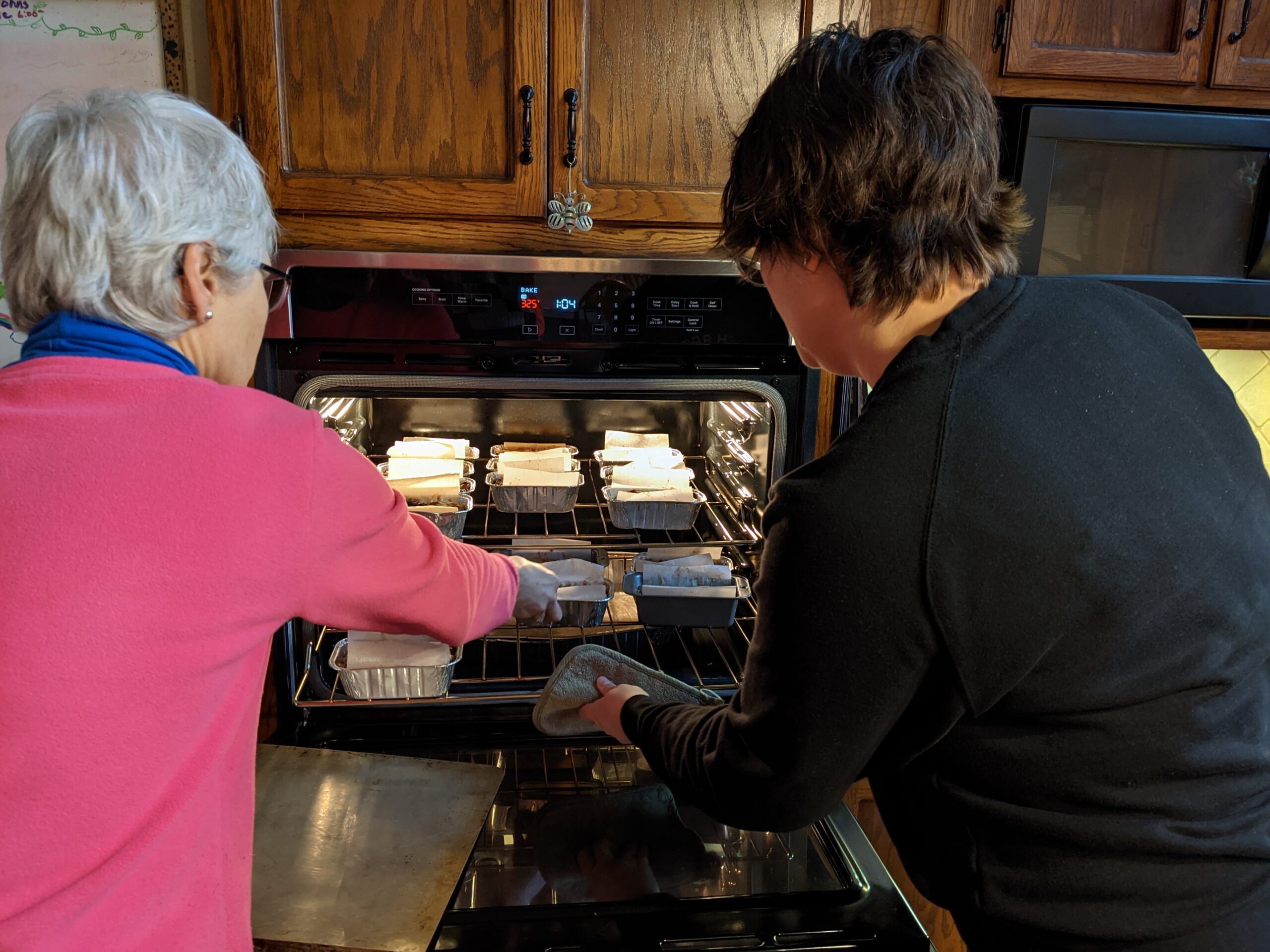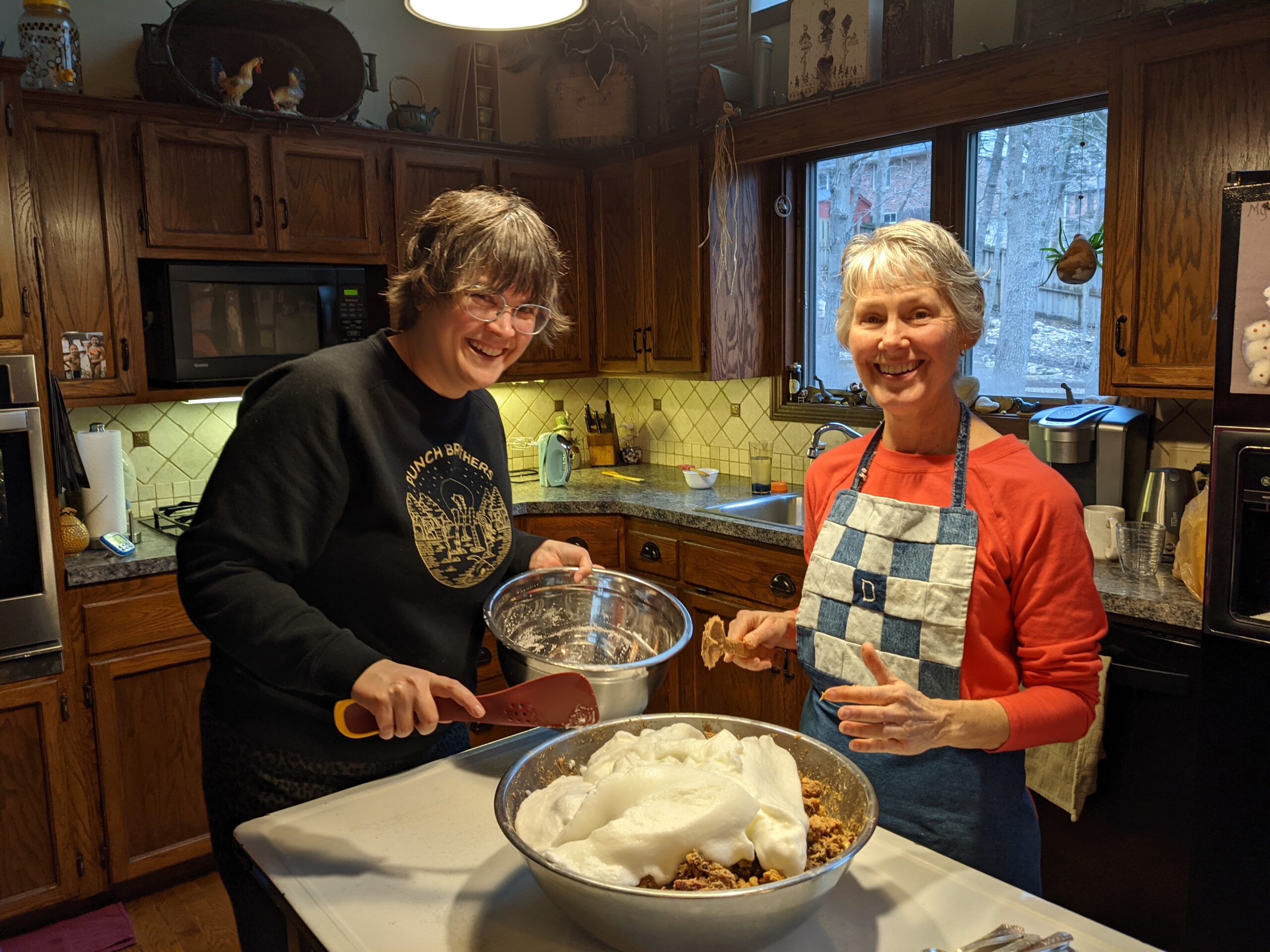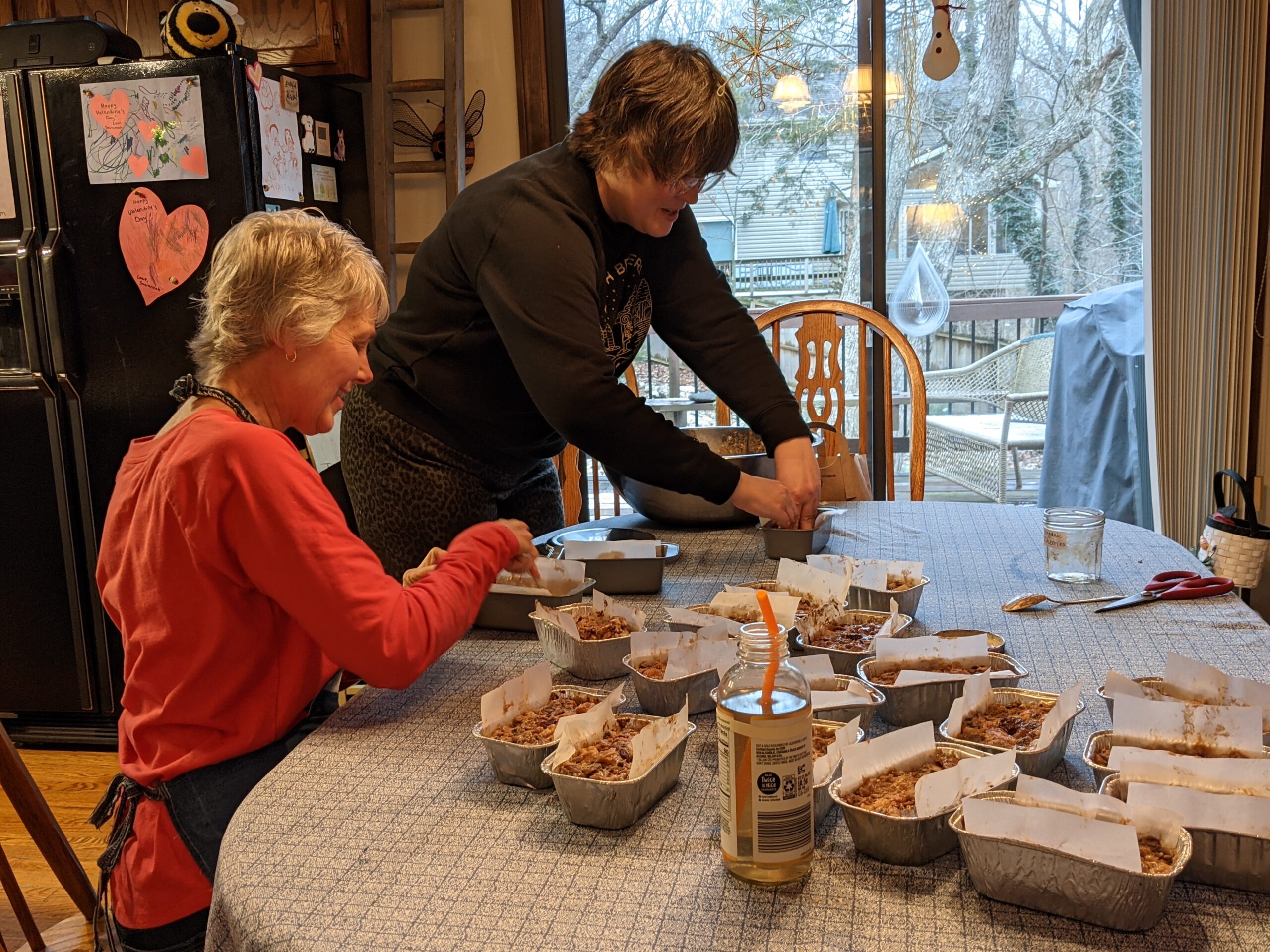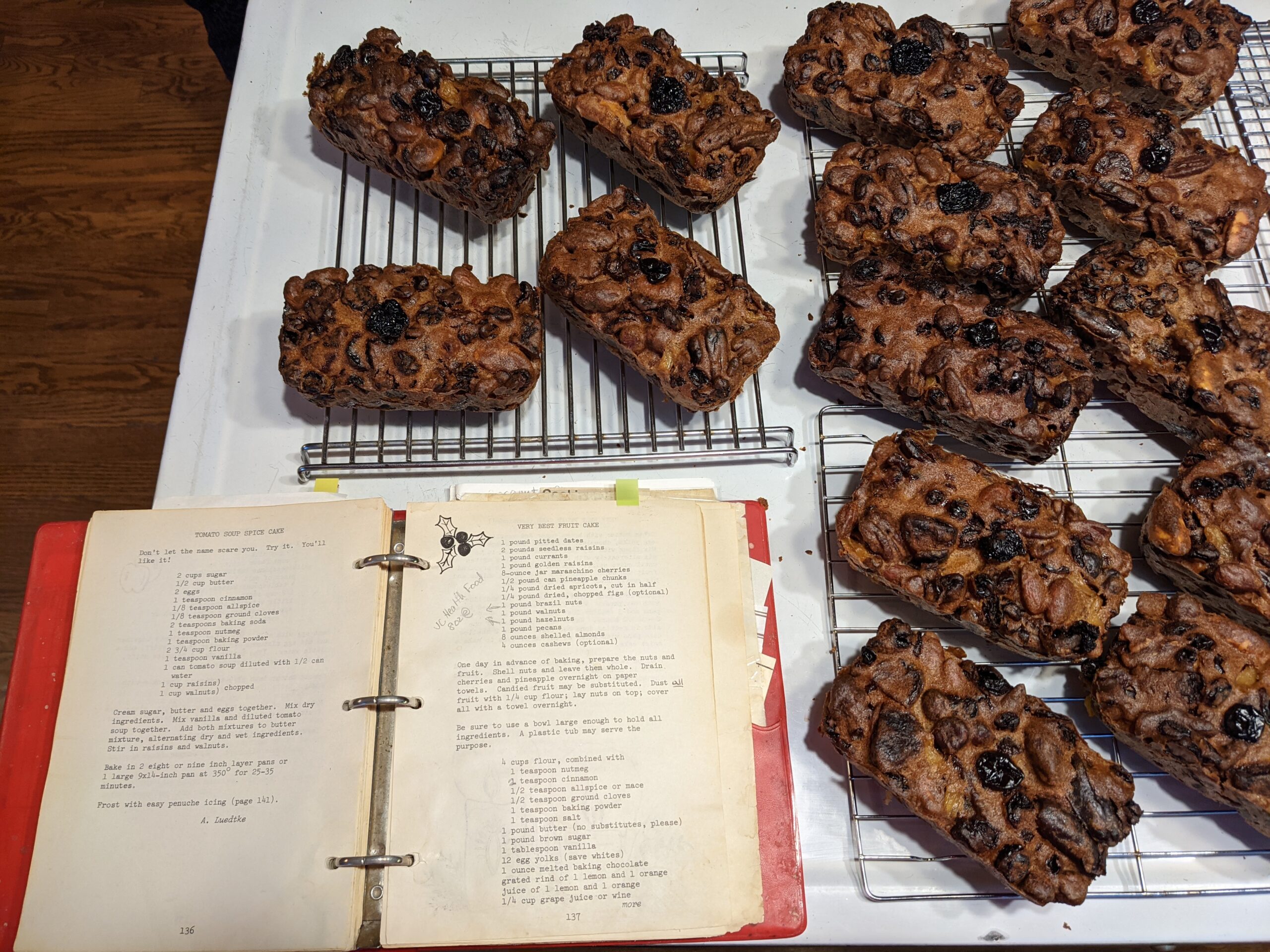 ---
Connect with the Lutheran Ladies on social media in The Lutheran Ladies' Lounge Facebook discussion group (facebook.com/groups/LutheranLadiesLounge). Follow us on Instagram @lutheranladieslounge, and also follow Sarah (@hymnnerd), Rachel (@rachbomberger), Erin (@erinaltered), and Bri (@grrrzevske).
---
The Lutheran Ladies Lounge is the podcast produced by KFUO Radio and hosted by Sarah Gulseth, Erin Alter, Rachel Bomberger, and Bri Gerzevske. Created for Lutheran ladies to have a place to escape to with inviting conversations, laughter, and fellowship with Lutheran sisters, we invite all of you Lutheran ladies to join Sarah, Erin, Rachel, and Bri on the sofa in the Lutheran Ladies Lounge to sit, rest your feet, and stay a while. If you're a Lutheran lady, join us in our Facebook group: facebook.com/groups/LutheranLadiesLounge.